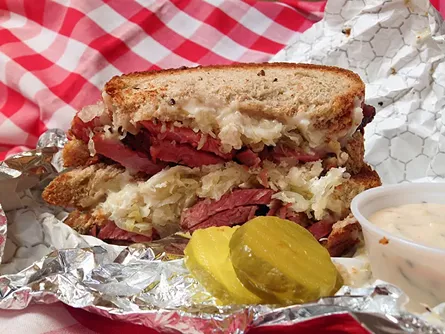 Jennifer Fumiko Cahill
Hello, Reuben. Or Rachel.
The famed Carnegie Deli in New York City has announced it will close its doors at the end of 2016, never again to stun tourists and enable regulars with its mountainous signature sandwiches, dizzying stratified cliff faces of corned beef and pastrami. Take a moment to pour out some pickle juice on the ground.
How to properly move through the stages of grief from so far away? Luckily Humboldt Smokehouse (310 Fifth St., Eureka) has added to its menu the pastrami the owners have been tinkering with since opening. It's smoked for 24 hours but add in the spicing and curing and you're looking at a 12-day process that yields a deep red, briney, peppery meat that breaks apart with the slightest pull.
The Reuben ($11.99) is technically a Rachel, the spicier pastrami-filled sibling of the traditional hot corned beef sandwich on rye with Russian dressing, sauerkraut and Swiss cheese. Instead of the infinite layering of thin slices, 1/4-inch thick slabs are fanned out on seedy, crusty rye bread with the kraut and cold-smoked Swiss cheese. And technically the relish in the side of dressing takes us into Thousand Island rather than Russian waters, but let's not kvetch when there's a nice hit of horseradish to balance the creamy tang. Worry about having enough napkins.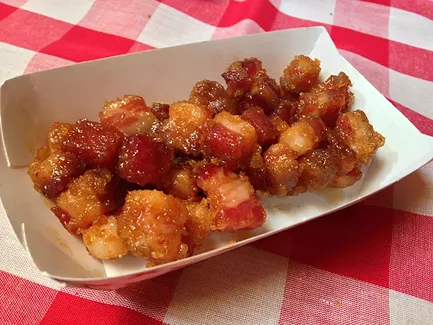 Jennifer Fumiko Cahill
Like little fatty, salty, spicy, sweet rubies.
And if you can stand at the counter waiting for your sandwich without ordering a little paper boat of Sriracha and brown sugar bacon (3.99), you're stronger than we are. But less happy. Unlike the hardened brown sugar crusted bacon you want to love but can't because it's lost its warm, fatty charm, these jewel-like chunks of cured pork are equal parts tender and chewy with buttery fat and exactly the right heat to balance the sweetness. And if there's any left by the time your sandwich comes, well, that's a kind of victory, too.