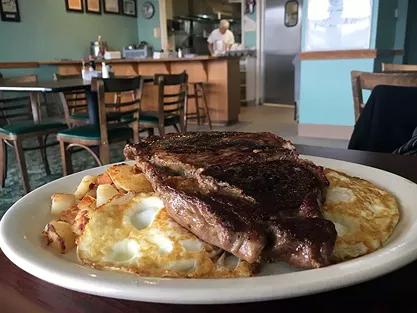 Jennifer Fumiko Cahill
Serious steak and eggs.
There's a daredevil glee in chowing down in a greasy spoon, casting hygiene-related fears aside, scratching the mystery spot off your glass and regard your plate — its contents fried to kill all but the most exotic contagions — as Evel Knievel must have eyed Snake Canyon before he hit the ramp. But, like all extreme sports, its high is a brief one you might die chasing.
At the opposite end of the spectrum is the deep calm of Amy's Delight (401 W. Harris St., Eureka). The Chinese-American diner has been in business since 1997 but the open kitchen, with its mirror-like stainless steel panels, calls to mind a computer clean room more than a diner. Rumor has it regulars include health department employees.
Jennifer Fumiko Cahill
This is the biscuit and gravy you're looking for.
Which is not to say hedonists and masochists can't still hurt themselves here. Order up the steak and eggs and find yourself facing a mound of pan-crisped potatoes and a full 12-ounce ribeye ($23). No fancy oven finishing — the steak is fried on the grill and so long as you don't get it well done and cover it in ketchup, you're eating better than our president. A pair of pancakes is among your side options but consider there is nowhere to sleep here. And the homemade biscuits, it should be noted, come with the sausage-heavy white pan gravy we have been searching for ($7.95).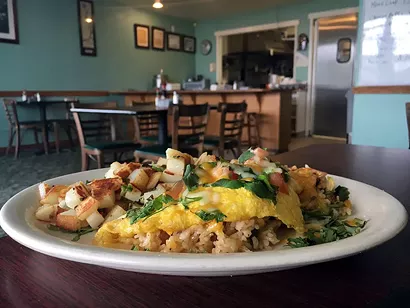 Jennifer Fumiko Cahill
Ham and egg fried rice omelet.
A more modest option is the signature Amy's Delight, an omelet stuffed with ham and egg fried rice and topped with mild cheese, tomatoes and cilantro ($11.95). It's homey and satisfying, especially with the house chili sauce. There are whispers, too, of a secret menu that includes a Taiwanese breakfast (Amy herself hails from Taiwan): two fried eggs over rice — break the yolks, drizzle with soy sauce — with a side of sautéed spinach ($9.95). But you didn't hear it from us.