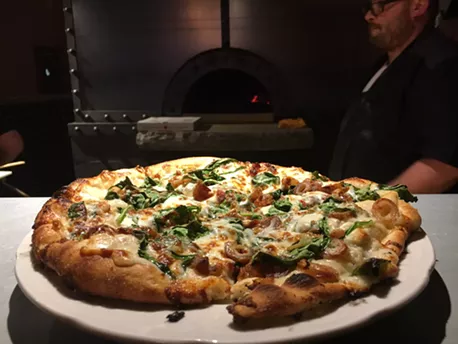 Jennifer Fumiko Cahill
The Salty Sweet delivers.
We initially missed the bar tucked away in the back of the Diver Bar and Grill (2830 F St., Eureka) and despite the name and the diving helmet logo, it's not a seafood place. But given our current socio-political climate, is this really the biggest shock you've had lately? Shake it off. Finally inside after seasons of passing its brown papered windows, we can crane our necks at the gleaming tin ceiling and the red glow of the wood fire oven in back. If it's chilly out, sit as close as you can and watch the two-person team slide pies in and out with long paddles.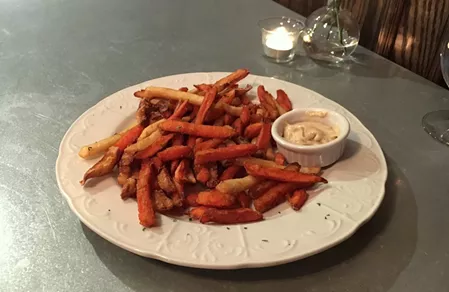 Jennifer Fumiko Cahill
Eat your vegetable fries.
Good news: I called your mom and she said the carrot and parsnip fries ($7) definitely count as a vegetable. They're sweet and nutty, and their light coating makes for a crispy exterior. More news: They will steam and go soggy in a takeout container, so spare no roasted garlic aioli and gobble them up hot.
If you feel the concrete floor and industrial metal chairs could use a little padding, just wait for your warm, pillowy pizza to arrive. A lot is happening with the Salty Sweet pizza ($14), the bubbly crust of which reaches for the edges of your dinner plate. On the savory end is pungent gorgonzola and blue cheese sauce under mozzarella, spinach, shallots and bacon jam. The sweet is delivered by a sprinkling of chopped Medjool dates. It's a balance of not just sweet and salty, but smoky and creamy. The crust is the real star, though, with a buttery sheen of olive oil and the wood fire char that gives it a crisp bite and a soft middle.