Jennifer Fumiko Cahill
Cheeses, take the wheel.
Humboldt's mac and cheese tour would also have to stop at Bless My Soul Café (29 W. Fifth St., Eureka), where the dish tauntingly appears on the appetizer menu ($7.95). Bring help. The overflowing cauldron of cheddar jack macaroni and cheese pushes the ratio of pasta to cheese to the very edge of reason. It's flecked with dill and dried basil, and spooning it onto your plate yields a cartoonish web of stretchy cheese.
Jennifer Fumiko Cahill
Fresh fried okra.
Sips of clove-spiced sweet tea ($3.95) will help you recover enough to order the fried okra ($6.95). It's a tumble of whole, fresh okra rolled in cornmeal, fried and modestly sprinkled with the house version of Old Bay seasoning. A bite — take your time, they're hot — reveals the bright green skin and creamy interior that frozen okra cannot deliver. No need to ration the Creole aioli dip because they will bring more. Take that southern hospitality along with a refill on the sweet tea.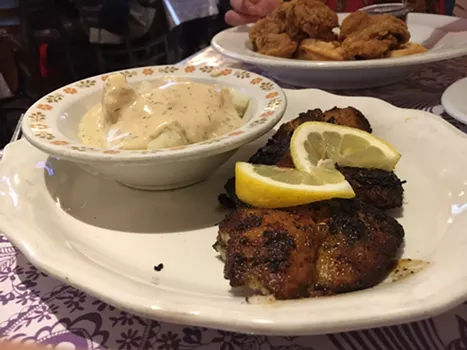 Jennifer Fumiko Cahill
The humble catfish with mashed potatoes.
Less Instagram-friendly but perfectly done is the blackened catfish ($19.95). The humble filet has a surprisingly delicate exterior that's spicy, buttery and smoky. And if you're struggling with choosing sides, go for the full Sunday dinner experience and get the mashed potatoes with dilly cream gravy.