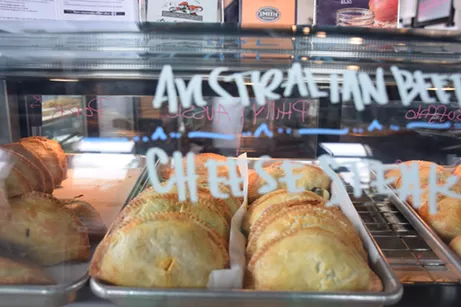 Jennifer Fumiko Cahill
Oy! Meat pies from another hemisphere.
Hey, Australia. Are we good? We had a weird phone call followed by a weird meeting and now it's awkward. But look, we made your favorite: meat pies! For those unfamiliar, meat pies are the wings and nachos of the land down under. They are at once a comfort food and the portable meal that launched a thousand hooligans.
Jennifer Fumiko Cahill
Less sloppy than a Sloppy Joe.
Unlike when restaurants whip up Asian salads and iffy Cinco de Mayo taco bowls, an actual Australian consulted on the recipe for Slice of Humboldt Pie's (828 I St., Arcata) Australian meat pies ($3.50 empanada, $7 individual pie, $28 family size). Blending in among the hot case of empanadas and pot pies, the antipodean favorites are stuffed with saucy ground Humboldt grassfed beef, minced onion and peppers. The flavor is ketchup-y in a good way, reminiscent of the sweet tomato sauce of a sloppy Joe. And unlike that quintessentially American sandwich — the engineering flaws of which are proclaimed in its very name — the filling is tidily contained in Slice of Humboldt's irreproachably buttery, flaky crust.
One can easily imagine it as a late-night drinking snack, a morning hangover helper or something to tuck into when you're jet lagged after a 22-hour flight. Cheers, mates.