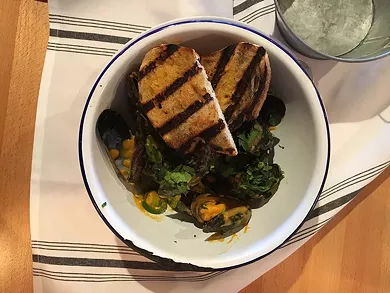 Jennifer Fumiko Cahill
Mussels with a splash of Thai curry.
Put away your clam diggers — domoic acid has put the local clam digging party on hold and mid-calf pants are hard to pull off anyway. But this is not to say shellfish is off the table. In fact, let's take a moment to appreciate the other mollusks that are so often overshadowed by our glamorous local oysters. (Oh, don't pout, oysters — you have a whole festival so sit down a minute.)
Our county runneth over with chowder. Not all of it is good. (Psst, cooks: If you can stand a spoon in it, ease up.) On the other hand, Salt Fish House (761 Eighth St., Arcata) has a solid entry with thick bacon and tender clams that is luxuriously creamy ($9). You would not be in the least bit deprived ordering it for dinner with a salad.
But look outside at the weather. The days of chunky fisherman sweaters before nightfall are behind us for now. (Maybe forever — we're apparently leaning in on climate change these days.) Drop a layer and ask for the curry mussels ($14). The enamel bowl is splashed over with a light red Thai-style curry sauce, chopped cilantro and fresh jalapeño slices. Swipe up extra coconut-rich sauce with the grill-striped bread (ask for it lightly done if you mind a dark char). As for the mussels themselves, they are steamed to a lush plumpness and are full of briny, earthy flavor. That's a luxury, too.