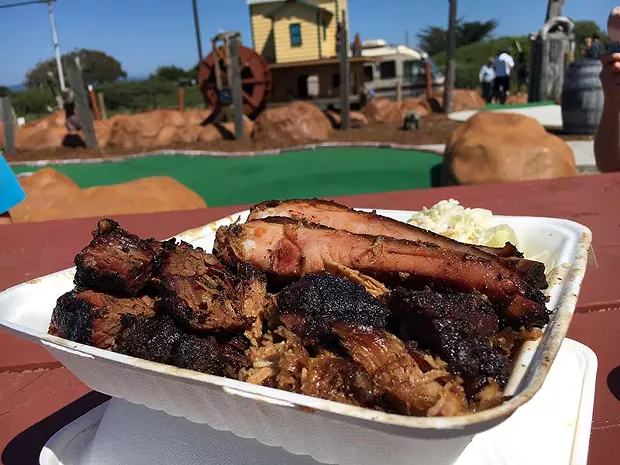 Jennifer Fumiko Cahill
Avast! The Captain's Platter.
We need a term for the sudden panic at the start of August when we realize summer is finite and
we have not yet had all the fun
. It was this wave of recreational anxiety that led us to Lighthouse Plaza (180 Lupin Drive, Arcata) for mini golf in the shadow of a Bunyon-esque lumberjack. Sunshine, beachy breezes, ice cream and, hey, a pop-up tent in the parking lot selling barbecue.
Seasmoke Barbeque's "captain" Chris Armstrong plans to set up the smoker there on weekends, as well as upcoming festivals like Hops in Humboldt. Still, call ahead (267-4957) or check Facebook before you drive out because there is no disappointment like barbecue disappointment.
Seasmoke has no secret ingredients, no gimmicky presentation or hook. Its Captain's Platter ($20) is a pile of three meats — brisket, pulled pork and pork spare ribs— with a scoop of slaw and some baked beans in a paper box. You may have to dig the ribs out from the bottom. Grab extra napkins. Once you unearth them, they are leaner than expected but still tender and seasoned with a straightforward rub of brown sugar, salt, pepper, cumin, paprika and cayenne. The same rub gives a caramelized crust to the un-sauced pulled pork, which comes apart in your fingers and tastes rich and smoky from low-and-slow cooking. The 12-hour brisket is even simpler, seasoned only with salt, pepper and garlic. Cut into chunks rather than slices, some edge pieces are tougher than others but the flavor is deep. You'll need to search your own feelings as to whether to apply the tart, spicy, brick-colored sauce.
And there you are, way ahead on your summer bucket list.