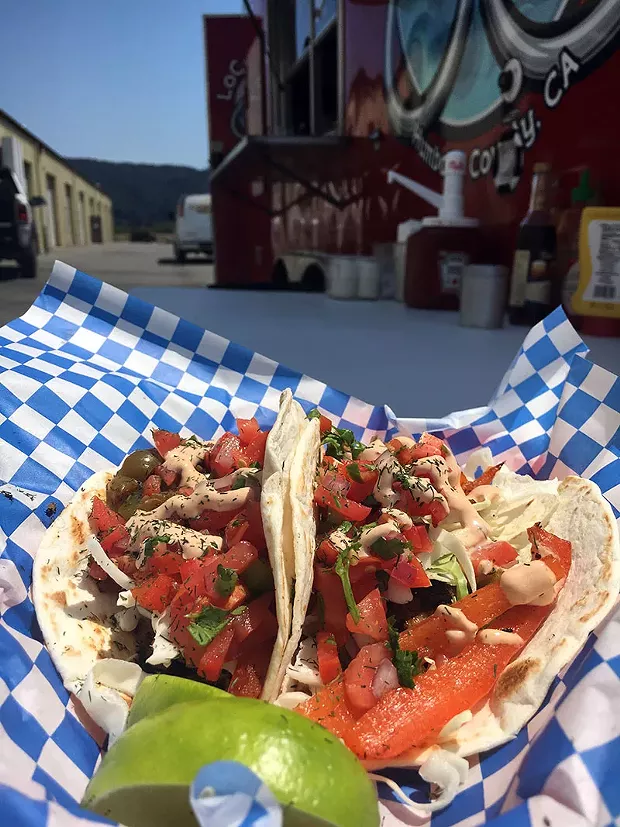 Jennifer Fumiko Cahill
Chipotle tacos have a lot going on. In a good way.
If you're looking for some industrial realness, the narrow lot behind Redwood Curtain Brewery (550 S G St, Arcata) is primed for your Instagram feed. There you'll find palettes stacked with malt sucks, hulking silver brewing tanks and the fire engine-red Loco Fish Co. truck.
The truck parks there seven days a week from roughly 12:30 to 8 p.m., pushing breaded fish and chips, fish tacos, fried oysters, calamari strips and the occasional poke out of its window, mostly to brewery patrons looking to offset their IPA consumption. The chipotle fish tacos come on grilled flour tortillas stuffed with blackened rockfish, a ruddy sauté of red and green peppers with smoky spice, mild salsa and mild cabbage slaw drizzled with chipotle mayonnaise ($10). It's a lot going on compared to the stripped down Mexican original you may have shown up craving — and if your shirt makes it out unscathed, I applaud you — but it works.
Jennifer Fumiko Cahill
Psst: You can take your piping hot puppies inside the brewery.
Treat yourself to the Beer Puppies ($3), hush puppies so named because they go well with a brew. Maybe two orders if you're sharing. The red-headed fellow at the grill, Chris Taylor, uses his Georgia-born grandfather's recipe, which you can watch him whip up to order, measuring some ingredients with spoons, others in fistfuls. Made with coarse ground cornmeal and green onions, the fried dollops are not the usual tight lumps but impossibly airy and moist inside with a crisp exterior you almost don't want to besmirch with sauce, as pickle-tart and creamy as the dill-heavy Russian dressing is.