Jennifer Fumiko Cahill
Good tacos make good neighbors.
Let us pause to appreciate the neighborhood taco truck. True, the trucks parked beside your favorite watering holes are doing the Lord's work, putting tasty, blessedly absorbent food in our bellies when most we need it. But get caught up in yard work past lunch or come home from work to a crisper full of wilted greens and the truck down the block may as well be an ambulance.
The cheery, red Tacos La Bonita truck has taken up residence on the corner of Spear Avenue and Alliance Road in Arcata (1499 Spear Ave., Arcata) with its fancy new appliances, presumably raising property values. With students back in town, expect a bigger crowd at the window. On a recent visit, Jackie Garcia glanced at her mother, Ms. Silva, who does all the "real" cooking — the meats, beans and sauces her daughter assembles into tacos and burritos — and said they'll be there every day, but for a few festivals and events.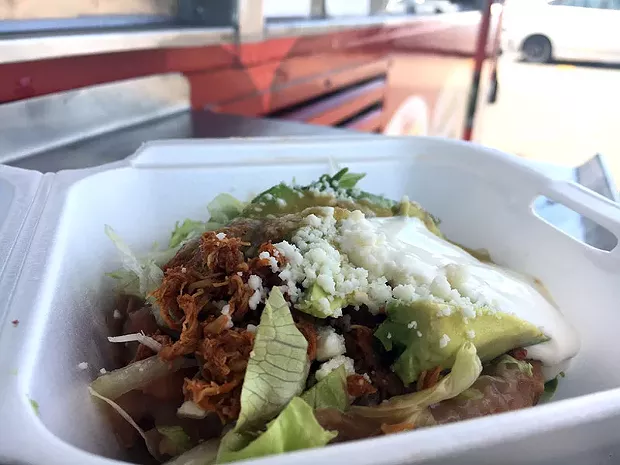 Jennifer Fumiko Cahill
Chicken tinga sopes with green salsa.
A carnitas taco ($2.50) comes with onion and cilantro on a pliant homemade tortilla, the meat tender and simply seasoned. If the homemade tortilla is, for you, the real star of a soft taco, follow your heart to the sopes ($4). The thicker hand-formed masa patty, crispy outside and soft inside, is fried to order and topped with a scoop of the spicy, vermillion chicken tinga, creamy refried beans, avocado and crumbled queso fresco. Tart green salsa is a fine choice here. And just like that, it's a beautiful day in the neighborhood.