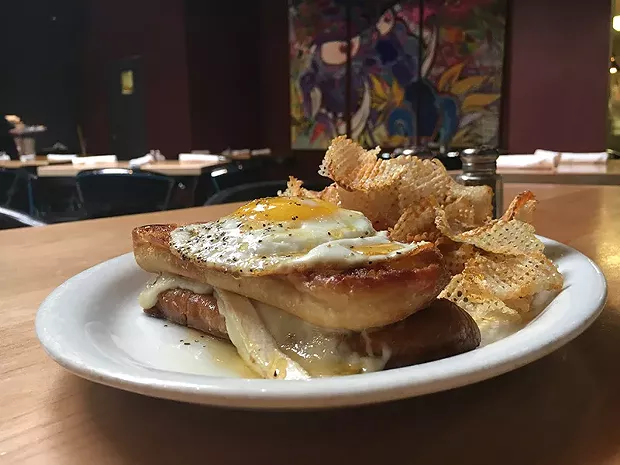 Jennifer Fumiko Cahill
The brie and honey runneth over.
Maybe you are among the economically wise and self-disciplined folks who bring lunch to work. Even you, my fiscally responsible friend, will slip eventually — oversleeping, running out of bread, spending more than your usual 15 minutes gazing into the existential abyss of your closet — and head out without your brown bag/reusable beeswax cloth pouch. By the time you buy a sandwich and chips, you're already in $8, and by the time you're done peering through the salad bar sneeze guard, maneuvering tongs over the baby corn and couscous, you'll likely spend the same. (Those garbanzo beans are heavy.)
If you have the luxury of leaving work for lunch (moment of silence for those trapped with a cup of yogurt and some kind of energy bar), consider treating yourself instead of rolling around in the hair shirt of lunch expenditure shame. You might try forgiving yourself with the grilled cheese ($10) at Five Eleven (511 Second St., Eureka). Melted brie makes a run for it out the sides of a soft homemade roll that's been grilled inside-out for a buttery, crisp exterior that's close to deep frying without going full Elvis. A drizzle of honey plays against the molten brie, its earthy rind and the char on the bread. The heap of hot, gaufrettes, latticed and satisfyingly crunchy, may ruin you for packaged potato chips for a little while, so enjoy them now.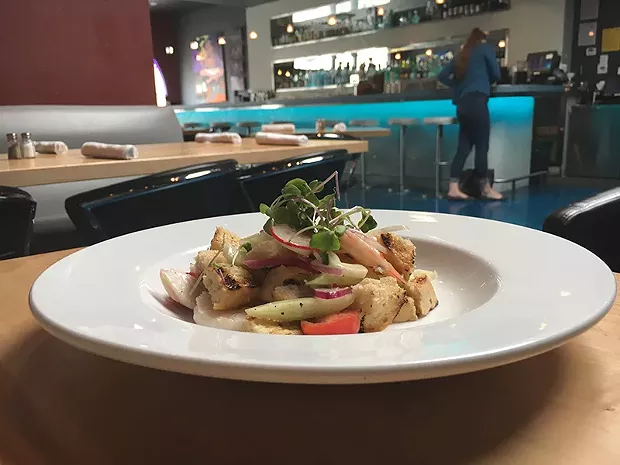 The polar opposite is the chilled prawn panzanella ($10), a grilled bread salad with cucumber, tomato, fennel and the zing of radish and red onion, all tossed with a spicy vinaigrette. It's the sort of thing one imagines eating at a fancy spa that doesn't demand you exercise. Continue the vibe with the spring asparagus soup ($4 cup, $6 bowl) that lingers on the menu through late summer. Pale and light, its creaminess is offset with bright lemon that makes it utterly fresh.