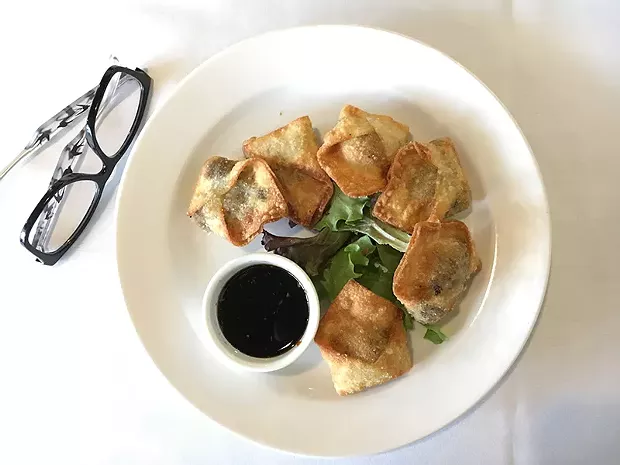 Jennifer Fumiko Cahill
Crispy elk wontons worth the leap.
When the erstwhile bistro Zoe's newly installed wood fire oven went cold, it seemed that once again you could find anything in Henderson Center (coffee, bike repairs, mole, a haircut, a drink, Japanese kitchen gadgets, Lao rice cakes) except a starched white tablecloth. Then Le Monde (2850 F St., Eureka), a French venture by chef Alex Begovic of Uniquely Yours Catering, popped up in the renovated space, snapping out the linens. The enormous Elizabeth Berrien wire tree has been replaced by black and white photos of family in France, Matt Beard paintings on the opposite wall and a few sound absorbent panels to take the edge off the echo in the large space.
Early on a recent evening, the talk at the next table was about how to share and taste everything. Easy enough to split a plate of elk wontons ($12). It's a leap of faith — if you've been burned by limp dumplings or, god forbid, bland kimchee at a French place dipping its toes into miscellaneous Asian flavors, those scars are real. The risk is rewarded here with crunchy envelopes loosely packed with enough flavorful ground meat to stand up to a house made Chinese five spice and an equally fragrant dipping soy and honey sauce.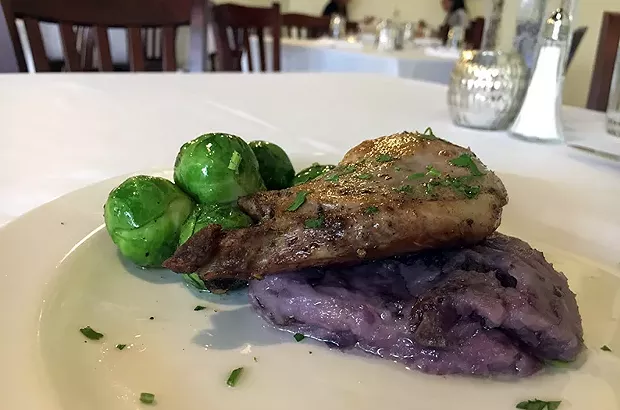 Jennifer Fumiko Cahill
Duck confit just like Maman used to make.
The menu touts duck leg confit ($19) from a family recipe, and how do you refuse that with the ancestors themselves looking down at you from the wall? It arrives browned and glistening, the meat firm and rich from a round of salt curing and cooking low and slow in its own fat. Be warned that if you peel away the soft, delicious skin and leave it on your plate I will know and I will judge you with the same stern expression as the French men in the photograph. The duck sits atop a mound of mashed tiny purple potatoes, some of which are still whole in their pleasantly mineral skins. Do we even recognize Brussels sprouts served whole anymore? These are bright green globes, glossy from a tumble in that duck fat — a relief (I can't believe I'm saying this but this is where we are) from the ubiquitous crisp-roasted-with-bacon variety.
Jennifer Fumiko Cahill
Lemon creme brulee.
There was murmuring from a nearby table about the blackberry soufflé but the "creme brulee of the moment" ($7) won out: a lemon version perfumed with zest rather than the tang of juice, with a bittersweet crackle of caramel to counter the none-too-sweet custard. The chiming of spoons against ramekins was an echo nobody seemed to mind.