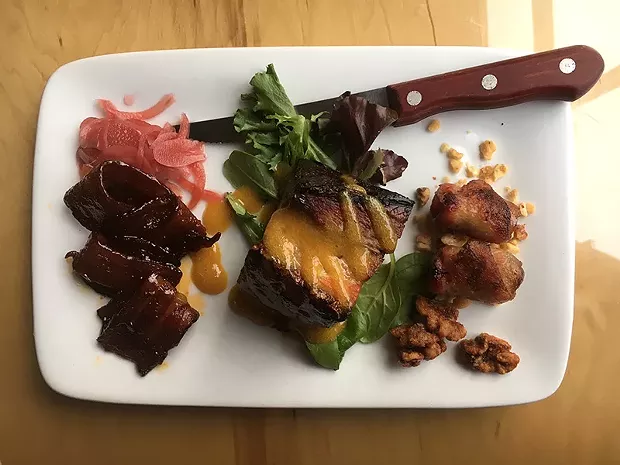 Jennifer Fumiko Cahill
Pork fat for the soul.
Depending on the day you've had, a cocktail may or may not cover it — even if it comes with "intention," like those on the bar menu full of essential oil-spiked concoctions at the Griffin (937 10th St., Arcata). Might they be where the room's pleasantly herbal fragrance is coming from? In any case, despite the conspicuous absence of previously available Taco Faktory offerings on the menu, comfort can still be had.
Ron Swanson acolytes be warned: All the Bacons We Have ($12) is about variety, not quantity — all the
bacons
not all the
bacon
. On one end are sticky, folded strips of candied bacon, which are firm, slightly spicy and only barely sweet. Anchoring the plate is a fist-sized hunk of pork belly (not bacon, but no need to be a killjoy about it) with a browned and chewy crust, a fatty, fall-apart interior and a drizzle of frothy orange glaze. An order of bread would not be a bad idea here, nor would finishing with the adjacent smoky, salty-sweet bacon-wrapped dates and spiced pecans.
Jennifer Fumiko Cahill
Fancy toast has arrived.
The less carnivorous can celebrate the expanded reach of the fancy toast trend with the chevre, fruit and honey toast ($5). Before you throw out a reactionary
pshaw
at $5 toast, consider that the crusty Josh Fox wheat bread is genuinely lovely and nutty, soft and elastic inside. On a recent visit, the Cypress Grove goat cheese was blanketed with golden kiwi slices and honey. As good — in both pleasure and wholesomeness — as you feel eating it, the hipster shaming from your companions is a small price.