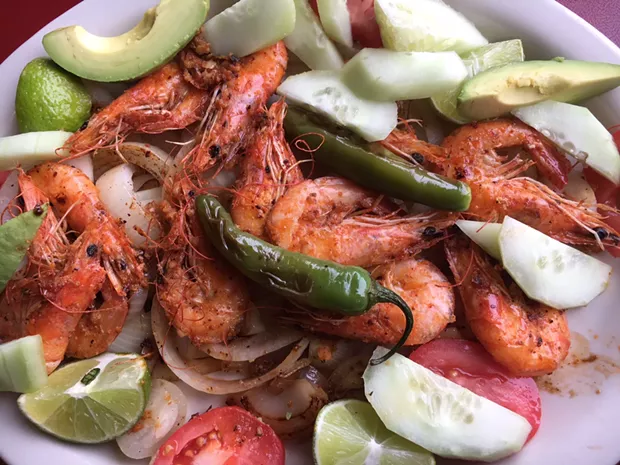 Photo by Jennifer Fumiko Cahill
Hot and cold at La Patria Mariscos and Grill.
The stretch of Eureka's Fourth Street between T and R streets is broad-daylight sketchy. And yet two restaurants have built cult followings there: Tandoori Bites, with its lunch buffet of curries, and La Patria Mariscos and Grill (1718 Fourth St.), just a samosa's throw across the street.
A couple of years ago, Adrian and Cici Ayala took over the latter (formerly La Patria Solis), changing up the menu to include more seafood than we've seen on a local Mexican menu, which is to say it's brimming with ceviche, octopus and lots of shrimp. This raises the question: How are we not eating more Mexican seafood? Look at Mexico, already. It's surrounded by water. Some would say big water. Ocean water.
The shrimp Botanero ($15.99) is a good way to dive in. The platter of more than a dozen garlicky head-on shrimp with charred Serrano peppers over a bed of grilled onions is edged with lime wedges, avocado, tomatoes and cucumber (for which you'll be grateful if you go all-in on the peppers). To peel or not to peel? The shrimp are cooked tender enough to go full Daryl Hannah in
Splash
if you want to enjoy the crunch and every bit of savory seasoning. And I'll take your heads if you aren't going to take advantage of the creamy concentration of flavor therein. The tomatillo and avocado sauce is a cool, tart accompaniment and, if you are ready for it, the side of dark, oily dried chili sauce brings more heat. Proceed with caution.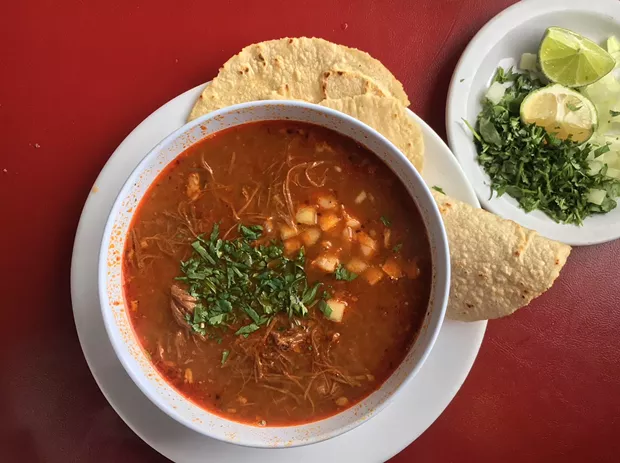 Photo by Jennifer Fumiko Cahill
All-day goat birria.
Another draw is the availability of consome birria ($6.99 small, $9.99 large) all week long instead of just weekends. Not since Black Philip has goat been so tempting. The glorious, velvety brick-red broth and long-stewed pulled goat seasoned with adobo and dried chilis are deeply flavorful and enlivened with a squeeze of lime and a pinch of cilantro and onion. It's messy work but the warm homemade corn tortillas are grilled to stand up to holding a scoop of meat. Don't punk out if you encounter a knob of bone — just be grateful to enjoy the real thing.