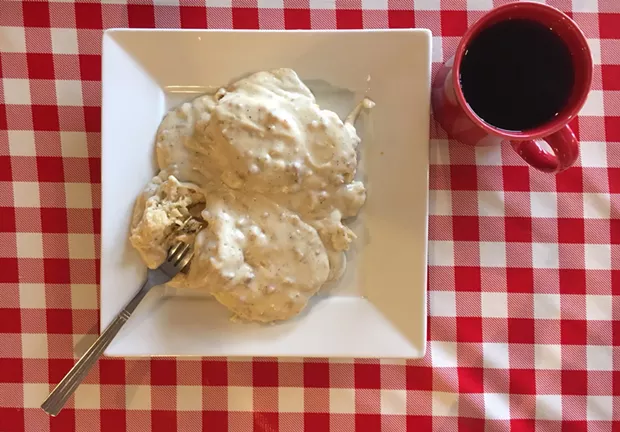 Photo by Jennifer Fumiko Cahill
Biscuits and andouille sausage gravy, cher.
In the interest of transparency, I would like to confess that I have been closed minded about biscuits and gravy. Haunted by a decades-ago plate at a truck stop near the border of Texas and Arkansas with payphones in the dining booths, it was hard to accept any variation on the standard dusty-topped, fluffy biscuit all but drowned in peppery, white pork sausage gravy. Only recently have I opened my heart and its attending arteries to anything else.
A fellow
Journal
staffer recommended the Cajun biscuits and gravy ($8.25) at Henderson Center's Cafe Nooner Too (2910 E St., Eureka) but I hesitated because it's made with andouille sausage. On a recent rainy morning, leaning into the steam from a full order, I got over it. The garlic and wine flavors from the andouille sausage make for a hammier, more aromatic pan gravy that's homey and satisfying. Dig under the smothering blanket and your fork will hit a pair of split rolled biscuits that pull apart in dense layers. The Nooner kitchen wisely avoids trying to make it pretty — this is comfort food, after all, a hot plate to finally warm your bones on a rainy morning, not a beauty contest. Best to keep it simple.