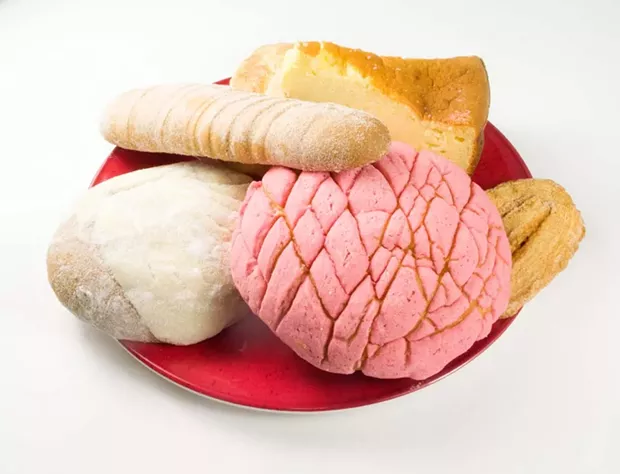 Photo by Amy Waldrip
Clockwise from top: cheesecake, oreja, concha, cinnamon concha and elotito.
When fire shut down El Pueblo Market on Broadway in Eureka, it left a sweet roll-sized hole in our hearts and stomachs. While we wait for the market and its wall of baked goods to reopen — soon, we hear, though there's no firm date — we're feeding our pan dulce cravings at its Redwood Acres kitchen, tucked in the right side of the main building (3750 Harris St., Eureka).
Knocking and entering the side door with the pastel El Pueblo sign taped to it feels like visiting a sort of carb speakeasy. You might have to call out for someone to come out from the back, be it owner Engelberto Tejeda or another baker, but that gives you time to browse the rolling racks that nearly fill the tiny storage space.
For those who revel in the simple pleasure of bread and sugar, there are bright, crusted
conchas
, of both the plain fluffy and denser cinnamon varieties, as well as long chocolate crumble-filled
elotitos
($.75). The soft pumpkin empanada has enough cinnamon to pretend it's whole wheat and will win you back from pumpkin-spice jadedness ($1). Round out your order with a flaky, sweet
oreja
($1) — Mexican cousin to the French palmier — and a wedge of dense, eggy cheesecake ($1.50) that's none too sweet and firm enough to eat with one hand while you continue with other tasks. Like selecting your next sweet. That ought to hold you over.