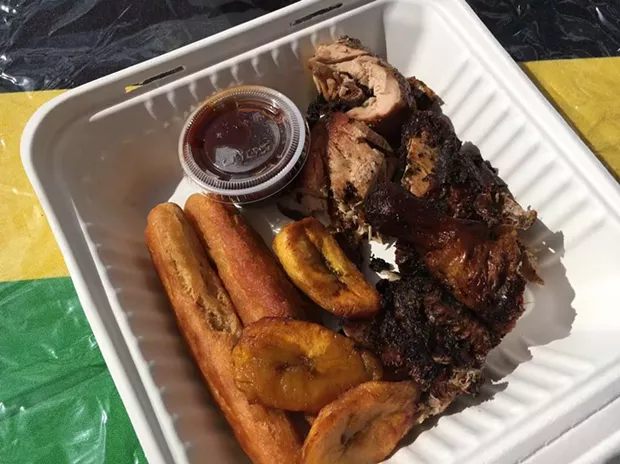 Photo by Jennifer Fumiko Cahill
Jerk chicken on the Arcata Plaza.
There are those who hit the Arcata Farmers Market as the first pop-up tents are snapping into place, stuffing their canvas bags with the week's produce and heading home to, I don't know, cook ahead for the week or whatever it is efficient people do. The rest of us arrive late and linger, circling the vendors at McKinley's feet for an early lunch. If your nose picks up jerk chicken, stop.
The Jerk Kitchen table, draped in a Jamaican flag, might be obscured by a line of people waiting and watching owners Joanne Kerr and Dell Bryan bring a cleaver down on smoky leg quarters and dish up stewed oxtail. Bryan, who hails from Jamaica, makes his own wet jerk sauce and marinated the chicken all day before barbecuing it low and slow over a wood fire. The end product is juicy and seasoned throughout, with a fragrant, earthy char full of allspice, garlic and pepper. An order of chicken comes with soft, sweet fried plantains and festival — hand rolled cornbread fritters that are doughy and firm inside with a crusty fried exterior ($10).
The market is Jerk Kitchen's only steady location aside from the occasional appearance at The Jam for special events, so jump on it. Listen, you just bought a bushel of some green vegetable the leaves of which are tarp-thick and will need a soak and a picking over and a long boil before you can think about eating them — my God, it's like you just took on an entire new job. Take a lunch break.