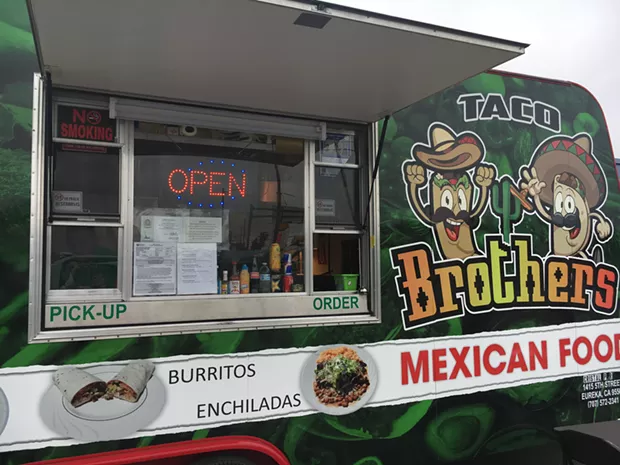 Jennifer Fumiko Cahill
Everybody loves dancing food.
As you zip down Eureka's Fifth Street, you're bound to spot the new taco truck that just claimed a spot on Monday at the corner of O Street under the golden pawn shop orbs. The snazzy Taco Brothers truck (1415 Fifth St.), with its dancing mustachioed burrito and taco, is hard to miss.
It's owner Cristal Pozos Ramirez's first food venture but she's not alone. Her father Raymond Pozos and uncle Guadalupe Miguel Pozos (the brothers) are doing the cooking, along with her mother, Luz, and aunt Pilar. "It's a family business," says Pozos Ramirez. Lifelong Humboldt residents, the family has roots in Oaxaca, which she says comes out in the cooking. "We kind of give it that special hit."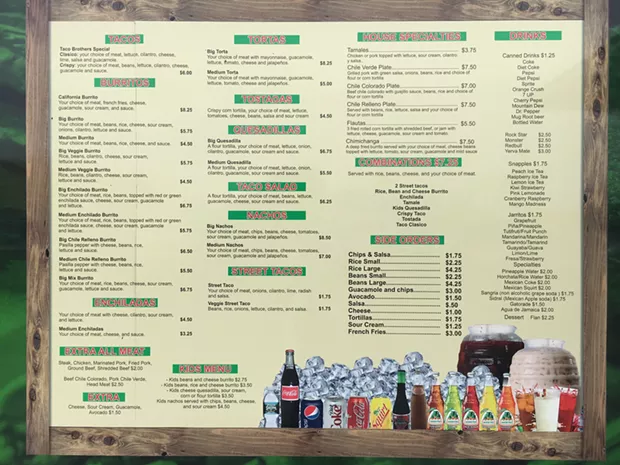 Photo by Jennifer Fumiko Cahill
On the menu at Taco Brothers.
Monday through Saturday you can find a member of the family working a shift turning out foil-wrapped burritos and plates of tacos. Pozos Ramirez says so far the cabeza and pastor are the big sellers, but she's not ready to pick a favorite. "I can't choose," she says. "It's hard."