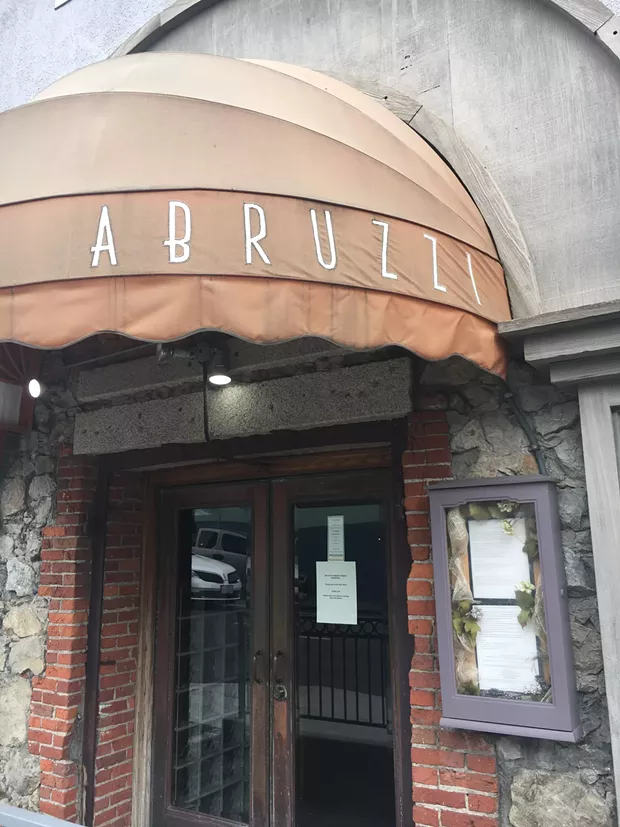 Photo by Jennifer Fumiko Cahill
With its kitchen under renovation, Abruzzi relaunches as a jazz lounge, for now.
If your plans for an evening out at Abruzzi were halted by rumors of its closure, don't despair entirely. Open since 1980, the Italian eatery has shut down its kitchen for renovation and relaunched itself as a jazz club — Abruzzi Lounge — at least for now.
Bill Chino, who co-owns Abruzzi with Chris Smith, says while the kitchen is blocked off, the bar is open and a few tables have been moved out to make way for leather chairs and a sofa. In its Abruzzi Lounge incarnation, the space is "a very informal, I guess I'd call it a jazz club." Opening night was this past Thursday and guests can seat themselves to hear live or recorded jazz, and nibble charcuterie and warm olives on Thursdays, Fridays and Saturdays from 5 p.m. on. There are plans to get performers back on the cordoned off stage, as well.
However, given that the building was built in 1857, its unclear right now how much renovation is needed and how much the owners are up to undertake. And so it's equally unclear what the future of the restaurant will be. "We're working in a transition and we'll know better in 10 days or so," says Chino. At least you can have a drink while you wait.