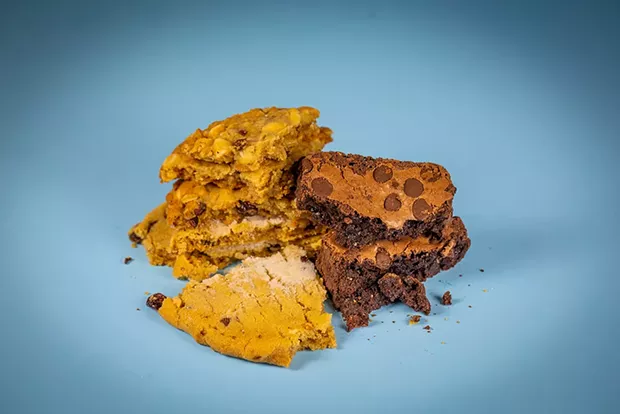 Photo by Sam Armanino
Homemade, grandma-level treats from Amigas Burritos.
Amigas Burritos has long had a loyal following, one that's hanging in with the change of ownership since Jorge Bravo, who worked there some 12 years, bought it two years ago. Regulars come for the burritos but we're here for dessert. The saucer-sized cookies in plastic wrap by the register are unremarkable looking but they're grandma-level stuff.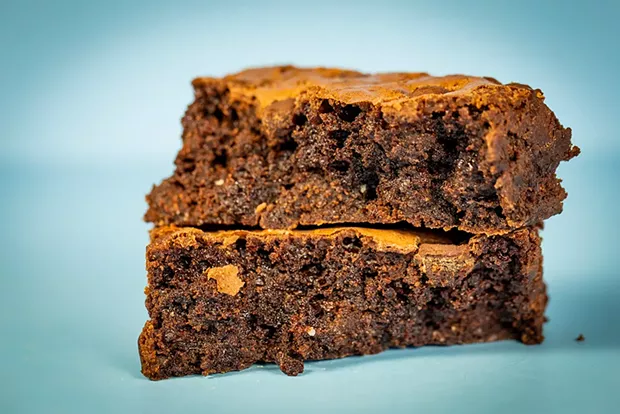 Photo by Sam Armanino
Fat, fudgy brownie goodness.
These are the kinds of homemade goodies you used to have to mow somebody's lawn for. The thick, palm-sized brownie's flaky top is dotted with chocolate chips and wonderfully fudgy and moist, right to the crusty corners ($1.35). There's also a two-hander of a peanut butter-chocolate chip cookie with chopped peanuts that bends and breaks in that gentle way only fresh cookies do ($1.25). The oatmeal, cranberry and white chocolate cookie is a soft, lumpy fall treat alternative for those who are pumpkin spiced out ($1.25).
Photo by Sam Armanino
Tiny, fluffy, crumbly cheesecake.
If you're lucky, the mini cheesecakes Bravo whips up won't be sold out ($2.50). More airy mousse than dense cheesecake, the lightly tangy fluff topped with berries comes in a cup of crumbly graham cracker crust that honestly could fall apart from a harsh word. But it's a simple, sweet surprise at the burrito shop.