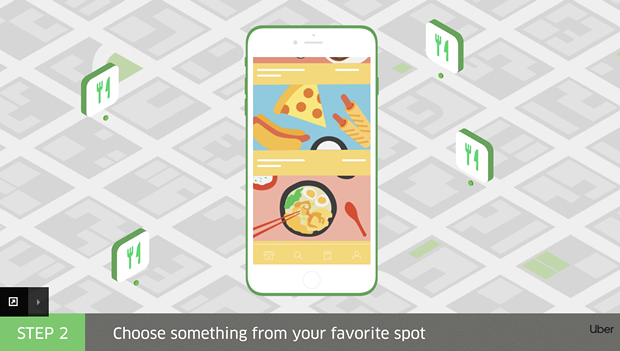 YouTube
From Uber Eats' how-to video.
Prepare to be disrupted, Humboldt. Uber Eats, the app-driven food delivery service that aims to serve 70 percent of the U.S. by the end of the year, has come to Eureka. As of 7:30 a.m. today, folks in Lodi, Yuba City, Redding, Chico, Visalia and Eureka are able to order from participating restaurants. Depending on where you're at, the app shows a handful of local options: Tandoori Bites Indian Cuisine, Ultimate Yogurt Eureka and Arcata, Diver Bar and Grill, Humboldt Bay Provisions, Stars Hamburgers in Arcata and Savory Grill and Cafe among them. Delivery fees, again according to your location, add roughly $3.49-$6.99 to your bill. Uber's transportation services
became available in Humboldt
in March of 2017.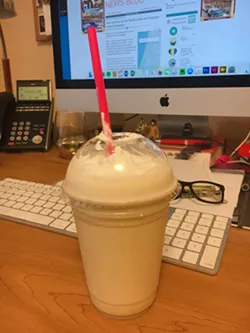 Photo by Jennifer Fumiko Cahill
A milkshake delivered from Ultimate Yogurt to the Journal office via Uber Eats.
We ordered a pumpkin spice milkshake from the Eureka Ultimate Yogurt (listen, I will not be shamed over that flavor because cinnamon, ginger and cloves are goddamn delicious, so stop pretending you're too cool for it) to try it out. It was delivered in 25 minutes and still plenty cold by Katie Bisson, a technician at Humboldt Medical Eye Associates who drives for Uber on her lunch and one of her days off. For her trouble, Uber paid her about $4 along with the in-app tip we tossed on. "I drive a Prius, so the mileage is good. Otherwise I might not do it," she said. Bisson's been driving people around Humboldt since March but this was her first milkshake transpo.
See Uber Eats' full press release and snappy how-to video below.
Uber Eats Expands Across Northern and Central California

Adds easy, streamlined delivery for dozens of new restaurants in the state as part of a broader national expansion


SAN FRANCISCO (Oct. 30, 2018) — Starting today at 7:30am PT, eaters across California will be able to order from dozens of new local restaurants with the Uber Eats app. Deliveries will be available from new locations in Lodi, Yuba City, Redding, Eureka, Chico and Visalia.


"We've already seen that customers love using Uber Eats because it gives them access to the food they love quickly and conveniently," said Kiran Vinta, Head of Launch and Expansion for Uber Eats US. "By partnering with more restaurants in these cities, customers will have an easy and reliable way to get their favorite food–no matter what they're doing or where they are."



The new partnerships are part of a broader national expansion that will bring Uber Eats to more than 70% of the U.S. population by the end of 2018. Notable new restaurants in California include Pitty's BBQ in Visalia, Roots Juice Bar in Redding, Wholey Ravioli in Lodi, Stars Hamburgers in Eureka and Sylvio's Pizzeria & Deli in Yuba City.



Many restaurants have indicated that partnering with Uber Eats has led to an uptick in revenue by giving them access to new customers and letting existing customers access them in a new way. For customers, the Uber Eats app opens easy access to their favorite local foods. For delivery partners, it also offers new, flexible work opportunities. As part of the launch, Uber Eats is launching a new self-sign-up tool so that restaurants can quickly sign-up and start doing deliveries on their own. Uber Eats charges a booking fee based on a number of different factors.


Uber Eats has doubled the number of cities that it's available in globally since the end of 2017, and the number of customers using the app is growing rapidly. The free, standalone Uber Eats app is available for both iOS and Android.



Uber Eats food delivery app is separate from Uber's rideshare app because requesting a ride and ordering a meal are two different experiences. The similarity, however, is that Uber helps make both easy and reliable. The same technology company that brought people access to rides at the touch of a button is now doing the same for food delivery. A video released by Uber Eats last year provides an overview of how easy the app is to use.



For more information about how the Uber Eats app works, visit about.ubereats.com. Those interested in delivering food through the Uber Eats app can visit www.uber.com/deliver for more information. For restaurants interesting in partnering with Uber Eats, you can find more information at https://www.ubereats.com/restaurant/signup.