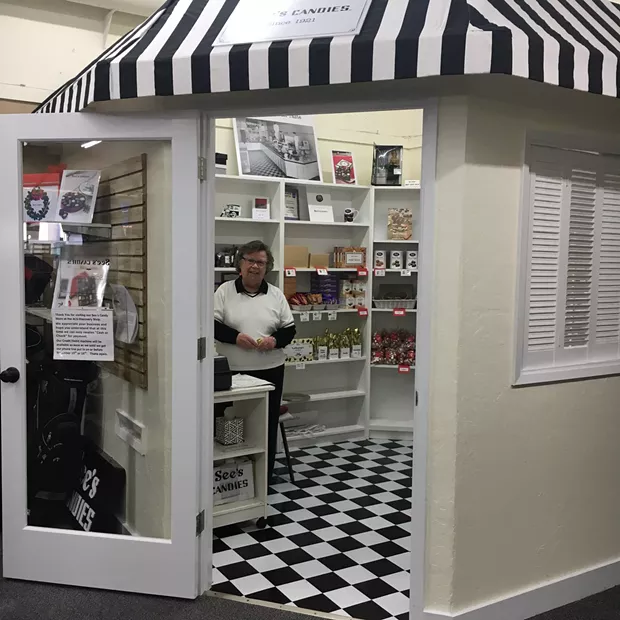 Photo by Jennifer Fumiko Cahill
Judy Hartman, poised to hook you up with almond clusters.
Are you finally out of Halloween candy? It's going to be OK. The See's Candy once available next door to the American Cancer Society Discovery Shop in Henderson Center is back after a brief residency blocks away and it's got its own little candy house in the corner.
The kiosk, the exterior of which mimics a black and white See's Candy shop (and the interior of which is a 3D map of my id), is stocked with peanut brittle, assorted chocolate boxes, butterscotch lollipops and all manner of sweets. Proceeds go to the See's Community Fund and the Breast Health Project, as well as the American Cancer Society. Funds pay for patient transportation and lodging among other expenses associated with cancer treatment, right down to bras and wigs.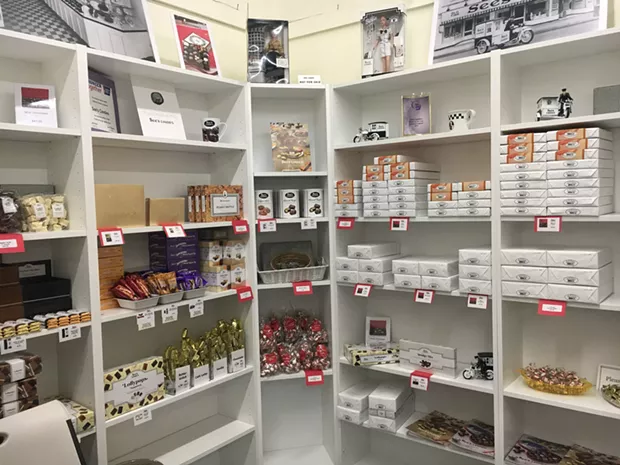 Photo by Jennifer Fumiko Cahill
The stocked candy pantry.
Judy Hartman, a 27-year volunteer candy seller, says the design was all manager Deb Cawvey's idea. Cawvey, however, says it was Hartman's idea. Either way, the shop is the only one of its kind, started back in 1967 by Sylvia Jutila, according to Hartman. It's also the central supplier for local stores that sell See's and give a portion of the sales to the charities of their choice.
You can satisfy your philanthropic and confectionery cravings whenever the American Cancer Society Discovery Shop is open, including during Thursday night's Henderson Center Holiday Open House from 5 to 8 p.m. The chocolate turkeys should be in by then.