Photo by Jennifer Fumiko Cahill
The cream cheese and blackberry jammy Blackout.
Pull up to the Root 101 Nursery (770 Wildwood Ave., Rio Dell) and instead of soil you may smell waffles. Tucked in the corner of the shop is the Wildwood Waffles counter, behind which steams a trio of busy waffle irons.
Puffed, crisp and cakey, the waffles come straight off the cast iron and are folded around a bevy of fillings you may need time to consider. The Blackout ($5) is a good start, slathered with cream cheese and blackberry jam from Mad River Farms. A flurry of powdered sugar finishes it off but the finished product is not terribly sweet and exactly as melty as you hope. For another $2, toss on bacon strips and hit all the food groups.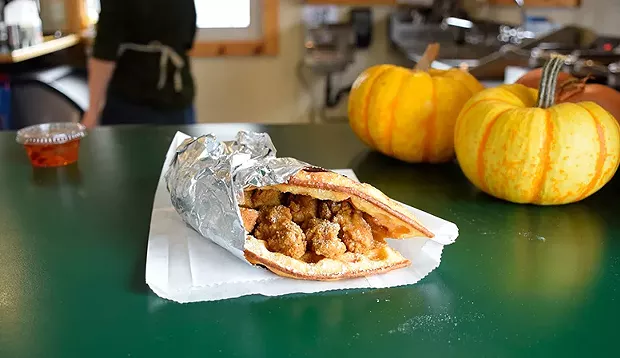 Photo by Jennifer Fumiko Cahill
A mobile take on chicken and waffles.
Those struggling with the desire for chicken and waffles and the need to hit the road can order up the SoHum ($10), a hefty handful of breaded chicken (not deep fried but still tender, savory and, hey, organic) with maple syrup and powdered sugar. It's tempting to throw bacon at this one, too, but a dollop of tangy jalapeño jelly, also from Mad River Farms, is the pro move.