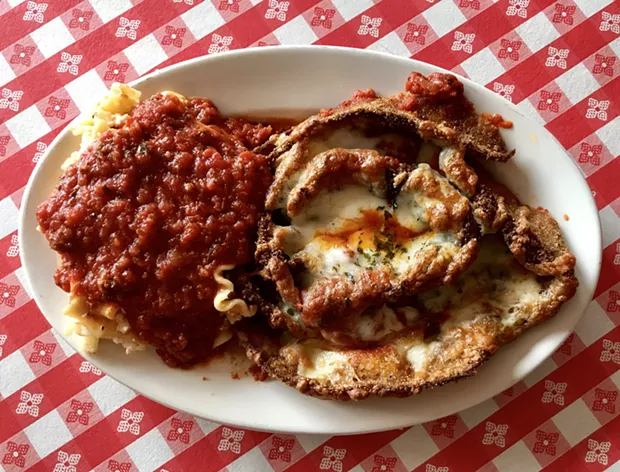 Photo by Lynn Leishman
Lasagna and eggplant parmigiana
Pity those whose otherwise broadening travels render them unable to enjoy American immigrant iterations of their ancestral cuisines. I think of my old classmate returning from a semester in Rome, heartbroken from an affair and recoiling from the messy red spaghetti and glass shakers of parmesan cheese and red pepper flakes that seemed to him newly inauthentic. It was loss upon loss, in my view, to break up with the very vinyl booths and candle-stuffed chianti bottles that might have given solace. By all means, let love break your heart but not your appetite.
An
NCJ
staffer's recommendation sent us to Ferndale Pizza Co. (607 Main St., Ferndale) for an eggplant parmigiana ($13.70) that would make a fine emotional salve. A solid Italian American classic, the broad slices of eggplant, dipped in egg and homemade breadcrumbs with parmesan cheese, and fried until their flesh is soft and translucent, are stacked and topped with mozzarella and marinara sauce. That a block of lasagna is one of your side options solves the conundrum of which to order but not where you will nap later. The lasagna, too, carries old-school, pizza parlor cred, with thick, curly edged noodles, ricotta, an all-day-big-pot meat sauce and mozzarella under a ladle of still more red sauce. Though it bears the saucy, meaty markers of the dish's evolution stateside, its mail-order DNA test kit would skew toward Southern Italy, with nary a spoonful of northern béchamel in sight. In those layers lies the comfort of tradition. And sauce. Lots of red sauce.