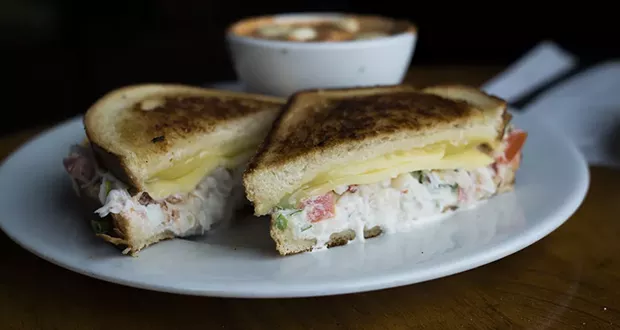 Domoic acid and low weights have led to enough crab-less Christmases to keep us from taking Dungeness for granted. Crack 'em while we've got 'em, folks. And if you're up for the luxury of feasting on the sweet meat without wielding a mallet, order it out.
Cross your fingers, kiss your St. Andrew necklace and hope it's on the whiteboard at Café Waterfront (102 F St., Eureka) for lunch. The grilled crab sandwich ($21.95) is one of few that pleases as much as the standard cold variety. The butter-grilled sourdough is mild enough not to overpower the generous fistful of crab, a mix of body and claw, topped with tomato and jack cheese that's barely melted. Beware: What little mayo is here turns runny enough from the grill to spoil your shirt. Both hands, over your plate, just like your mom said.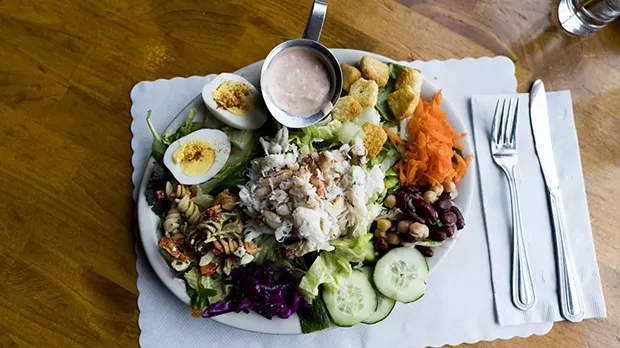 The crab Louis is another more vintage option ($21.95), the recipe harking back to the 1900s, when those of us on the West Coast were more afraid of typhoid than the dish's traditional Romaine lettuce. Café Waterfront uses a mixed garden salad as its base, skips the asparagus and surrounds the crowning crab with hard boiled egg, throwback bean and pasta salads and a pitcher of horseradish-spicy Thousand Island dressing. (FYI, packaged or not, anyone who doesn't pick the first crouton off their salad is a robot.) Even a butter-only extremist might be surprised at how well the house made dressing brings out the briny flavor of the crab when sparingly applied with the tip of a fork. It's deeply old fashioned but maybe this is the time for a hipster revival. Sit by the window like it's 100 years ago and toast the boats as they pass.