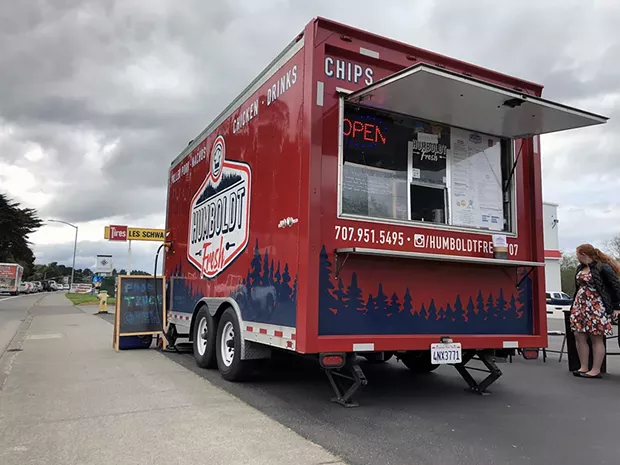 Photo by Jennifer Fumiko Cahill
The Fortuna-based Humboldt Fresh truck in its new Eureka spot.
Fortuna has been enjoying the fruits of the Humboldt Fresh truck for roughly five months at its 2059 Main St. parking spot in front of Fortuna Fabrics. But now it's pulling up in Eureka Tuesdays, Thursdays and Saturdays in the lot by Les Schwab Tire Center (2440 Broadway). Fear not, Fortunans: Mondays, Wednesdays and Fridays are still yours. Driving by at speed, one might not have a solid sense of what's on offer when at the window in back.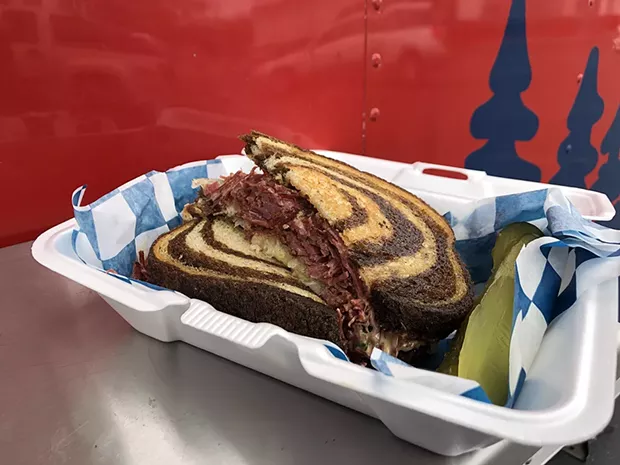 Photo by Jennifer Fumiko Cahill
The Reuben special that should maybe work its way onto the menu.
The special of the day was a $12.99 Reuben, grilled to make your fingers shiny, its marbled rye spilling with salty, tender shredded corned beef dotted with bits of fat, mild sauerkraut and melted Swiss cheese and a swipe of thousand island dressing. The white paper pouch of straight-cut fries is not hand cut but a happy surprise nonetheless, perfectly crisp and dusted with sea salt flakes. All together it could be a fruitful regular menu item.
Photo by Jennifer Fumiko Cahill
A portobello and Swiss burger.
The burger list is stacked with variations on the grass fed patty, among them the portobello and Swiss with bacon and grilled onion, lettuce and tomato ($8.99). The hand-formed patty is barely pink in the center and encourages further exploration of the list. The sourdough bun, though, might best be enjoyed at one of the adjacent picnic tables, as steaming in the container in your car doesn't serve it as well as eating it right away.
Side discussion: Nobody likes a styrofoam container for obvious environmental reasons, yes, but also because the overzealous among us (looks around shamefully) sometimes puncture the bottom with a fork jab, unleashing all manner of drippings onto our laps. Paper isn't ideal, either. Is it time, now that so many of us are trained to carry our own travel mugs, to consider the BYO take-out container option? Something sturdy that wouldn't earn glares from people with water canisters carabinered to their backpacks or force me to buy so many new pairs of pants?
Photo by Jennifer Fumiko Cahill
Brisket nachos for the hungry or social.
A more ambitious carnivore — or a more social one — might head for the brisket nachos instead ($11.99). The pile of pleasingly brittle freshly fried tortilla chips is not cheesy/gooey but heaped with smoky pulled brisket, a simple guacamole, sour cream, pico de gallo and pickled jalapeño slices. Its true purpose is as a vehicle for the tasty hunks of meat. And that's not a bad mission for a meal or a truck.