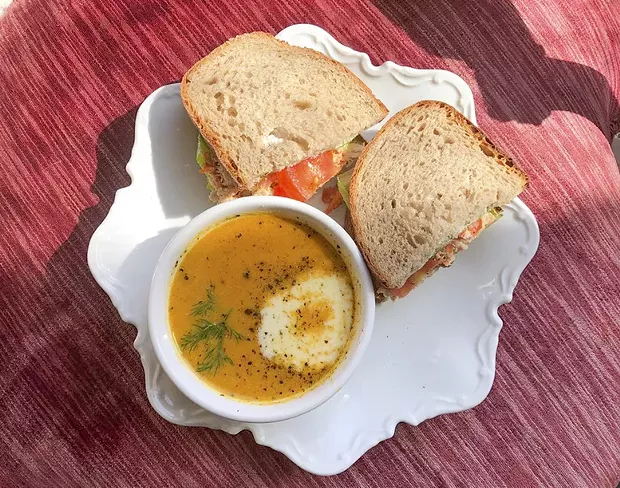 Photo by Jennifer Fumiko Cahill
Tuna on rye with a zinger of a carrot-ginger soup.
Open for less than a month, Bandit Savory & Sweet (525 Second St., Eureka) is making itself at home in the lobby of the Vance in Old Town, its winking name and vintage aesthetic dovetailing with the revival of the landmark building. You might have sampled the baked goods before at the Friday Night Market. Now owner Erica Davie serves a full (though blessedly brief) menu of sweets and sandwiches on granny plates with mismatched silverware among the antique moldings and tile.
Select a velvet cushioned seat by the window and look over at the Oberon, once the home of a brothel and speakeasy to and from which patrons of the Vance Hotel once toddled. More wholesome pleasures are to be had now, and the beer, wine and cider no longer require a furtive trip across Second Street.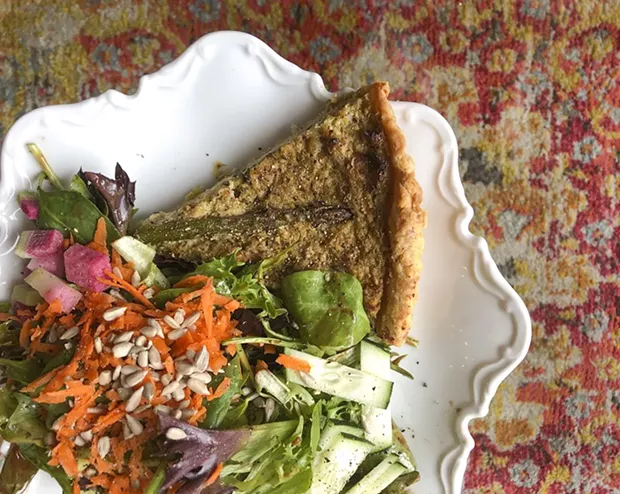 Photo by Jennifer Fumiko Cahill
The spring tart with artichoke and asparagus.
If you've come for lunch, check the chalkboard for the soup of the day ($4.50 per cup). Cross your fingers for the roughly pureed carrot ginger soup, sharp and peppery with a balancing swirl of cream and sprig of fresh dill. It's a solid match for the generous tuna salad mixed with shredded carrot and chopped cornichons on Brio rye ($12.50 soup and sandwich). Otherwise, a spring tart of tangy pureed artichoke hearts and asparagus in a crisp-to-the-bottom shell accompanied by a salad of organic greens tossed with a fruity balsamic vinaigrette is another fine option ($11).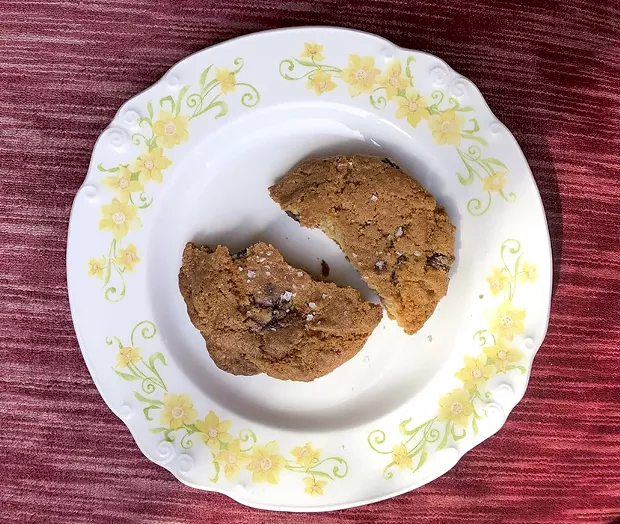 Photo by Jennifer Fumiko Cahill
Salted chocolate chip cookie break at Bandit Sweet & Savory.
As for the sweet, there are cardamom and rose cupcakes that are fragrant but not soapy in the least ($4), and other treats — some gluten free — under glass domes at the counter. But the hefty salted chocolate chip cookies are a sure thing ($3), just bendable with a buttery, crusty edge and hunks of chocolate throughout, and flakes of sea salt on top. It satisfies wholly — savory and sweet, like the sign says.