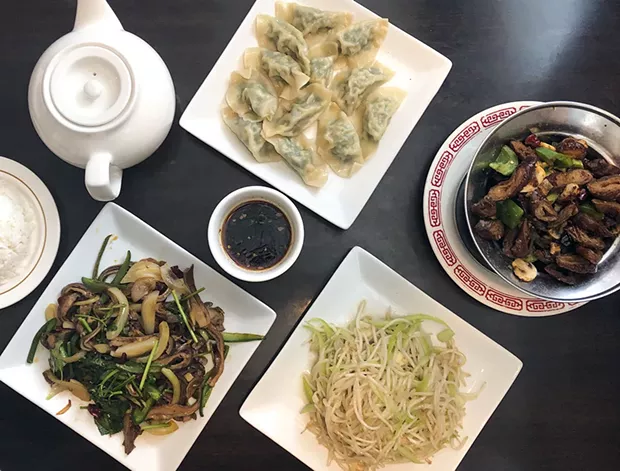 Photo by Jennifer Fumiko Cahill
Familiar flavors from Szechuan Garden's not-so-secret menu.
The "Secret Menu" at Szechuan Garden (753 18th St., Arcata) might be more accurately titled the Student Menu. Owner Nina Zhao, a native of Shenyang in Northern China who took over the place five years ago, added the page and a half list because so many Chinese and Chinese American students from Humboldt State University were homesick for familiar flavors.
Photo by Jennifer Fumiko Cahill
Pork, shrimp and leek dumplings.
Among the comfort foods are the simple, crunchy, garlicky bean sprouts with celery ($8.95) and the tender, translucent-skinned, leek-heavy steamed pork and shrimp dumplings ($8.75, dozen). Then there's the sentimental favorite: the humble egg with tomato ($9.95). This nostalgic, homestyle scramble is achieved by moms and restaurant cooks alike by swirling mercilessly beaten eggs in a hot, oiled wok with wedges of fresh tomato and scallions. The sauce is savory and sweet, reminiscent of thinned ketchup in the best way.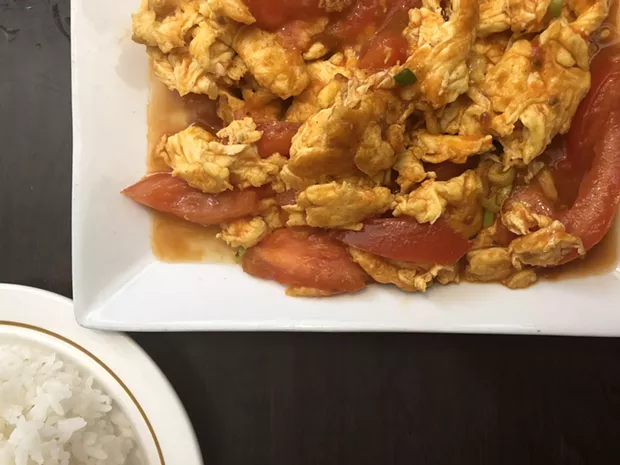 Photo by Jennifer Fumiko Cahill
Tomato with egg, a comforting, homestyle classic.
Those who enjoy offal and the numbing heat of Sichuan pepper will be pleased to lean into the fragrant fumes from the stainless steel, Sterno-powered Braised Spicy Pig Intestines in Hot Pot. The crinkly rings fried with dried red chilis, green and red peppers, mushrooms and cilantro that conceal a pool of smoky, deep red chili oil. The earthy, chewy stuff of sausage casings is given star treatment here, as is the pig stomach sliced to resemble soft, chewy mushrooms and stir-fried with thick slices of garlic, onion and jalapeño slivers (11.95).
Photo by Jennifer Fumiko Cahill
Braised pork intestines with Sichuan pepper.
Are jalapeño peppers native to China and therefore traditional? What are you, a cop? Like language, living, changing cuisines adapt and incorporate new ingredients, which is one of the many pleasures of immigrant food and experience. As are, let's be real, the Chinese take-out classics adapted for American palates, like a fat cabbage-y eggroll with duck sauce. Somebody somewhere is homesick for that, too.
Editor's note: This post has been edited to show the correct spelling of Nina Zhao's name.