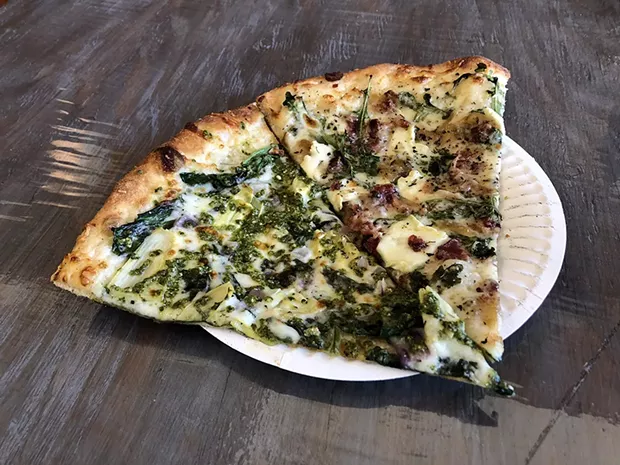 Photo by Jennifer Fumiko Cahill
Pizza with pesto and brie in Trinidad.
When eating in Trinidad, it's a totally understandable knee-jerk impulse to veer toward fish and chips, clam chowder or crab anything. It's the seaside atmosphere. But are you overlooking the pizza? In the shadow of its older sibling the Lighthouse Grill and on the former site of the Bergeron Winery tasting room, Headies Pizza and Pour (359 Main St., Trinidad) is reason enough to consider a slice.
A walk to the restroom takes you past the tight space in which at most two staffers can maneuver enough to bake a maximum of four 18-inch pizzas at a time in the smallest conventional unit I've ever seen. The foundation of those pies is a daringly thin crust that you'll need to support with one hand — that it retains its chewiness and doesn't become a cracker is impressive. The crust has enough salt and olive oil flavor to be enjoyed alone, and the puffed and bubbled edge has a soft interior.
A four-shelf glass case on the counter displays the by-the-slice options. There are, of course, traditional toppings like pepperoni, mushroom and sausage, but notes of the shop's winery past linger with goat cheese and fig balsamic vinegar. A slice of the Artist comes with spinach, artichoke, sweet red onion, a liberal application of pesto, roasted garlic and cheese ($3.79, $24.99 pie). The Dealer's Choice pizza of the day projected a similar vibe with strands of bitter arugula, caramelized onions, finely chopped bacon and hunks of brie melting into a base of garlic and white wine butter sauce ($3.49 per slice).
Find a table in the little dining room or take a slice on a paper plate in a brown bag (the proper way to manage a takeout slice and a hill I will die on at any pizza counter) to one of the lovely vistas in town. That's all the seaside atmosphere you need.