For the second year in a row, I ventured beneath the grandstands at the Ferndale Fairgrounds to check in at the "Judges Only" bar. Eighteen of us — mostly strangers who all clearly love meat — gathered to judge Guy Fieri's sixth annual Surf and Turf BBQ Competition at the Humboldt County Fair. Lined up outside were teams made up of friends, families and coworkers from near and far who all came to Humboldt to throw down on their grills. Many of those grills were custom made, giant beasts of things that travel all over for competitions. Over the next five hours, we'd be judging four rounds of meat and engaging in all the debauchery for which an open bar and a parade of protein governed by the Mayor of Flavortown allows.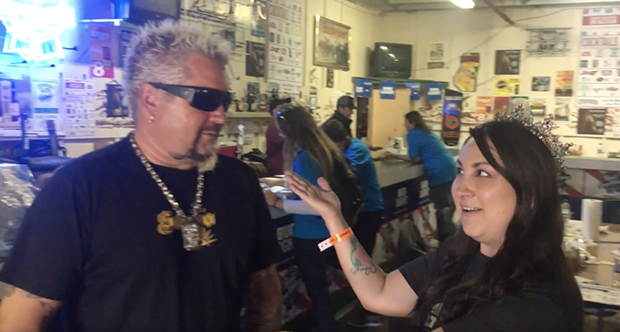 Facebook/Humboldt Foodies
Guy Fieri and Jessica Ashley Silva at the barbecue competition.
The morning began with some metaphorical spice: The ominous and unknown "they" of the Kansas City Barbeque Society sent representative to change up some of the rules and scoring system. This is Fieri's event and, as such, he normally makes and presents all the rules each year. You could hear a pin drop when the rep told us KCBS rules didn't allow alcohol while judging (something-something palate contamination) but Fieri let us know there are some lines that simply would not be crossed. And thus the open bar remained. (I love you, man.) I'm pretty sure the drinks helped prepare us both mentally and physically for the massive quantities of meat that would be rolling out every hour on the hour from noon to 4 p.m.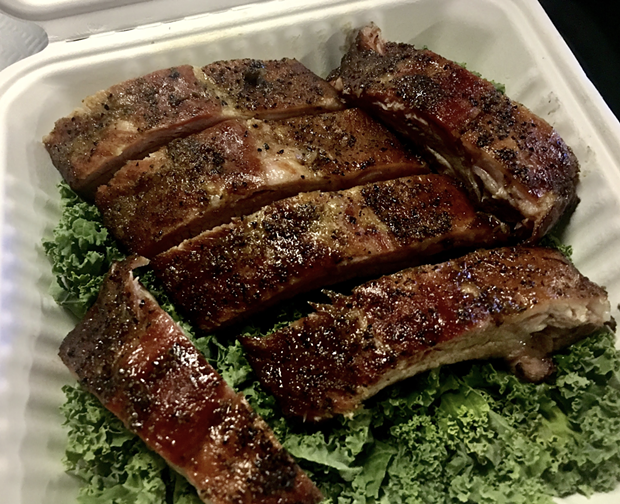 Photo by Jessica Ashley Silva
An anonymous rib entry.
There were slightly fewer contestants than there were last year. In 2018, each judge sampled 32 pieces of meat and seafood (I'm sweating just thinking about it). This year, each judging team tasted only 16: four each of seafood, chicken, pork and beef.
After the first round of judging, things really started to liven up. The grilling teams started were clearly in their elements, the beer and cocktails flowed, and the crowds swarmed in to sample food and cast votes for the People's Choice winner. Fieri alternated between bantering with the judges and roaming the competition area. He talked with teams, met local fairgoers and furries (I thank the universe for sending us these little gifts), and high-fived kids stoked to meet him. The judges and volunteers, now best friends after a few rounds of drinks, devolved into a silliness and camaraderie that only booze and barbecue can form after such a short time. I'm not naming any names but one judge wore a tiara and dubbed herself the Barbecue Princess, and she and some fellow judges may have sneaked some tequila to a grilling team or two. OK, readers, that judge may actually have been me.
There were scallops, shrimp and fish, my favorite of which was a seared ahi with a citrus glaze. There was chicken, mostly dark meat (give me all the dark meat, please and thank you), and there were ribs. Oh my goodness, so many ribs: some sauced, some baked, some spicy, some smoky and all juicy. I also had one of the best bites of medium-rare filet ever and some superb tri-tip. And bacon, so many things wrapped in bacon. This time around, there were no forks but, honestly, barbecue is way better when devoured cavewoman-style. We don't need no stinkin' forks.
According to Fieri, his whole goal in running this competition is to bring exciting new events to the fair to keep it going strong for our community. I mean, any event that brings Guy Fieri and furries together has to be worth maintaining as a tradition, right? Sampling aside, all of this fun with my community is the real reason I aim to keep coming back each year. Mingling with the teams, meeting and sampling from local vendors, and forming new foodie friendships with the judges and volunteers I spent the day with made the day indelible.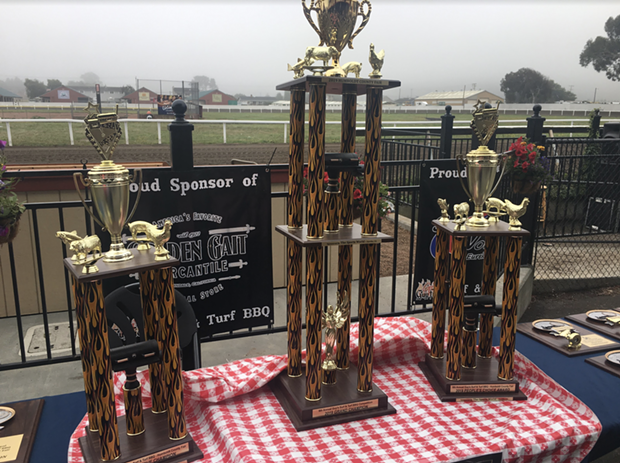 Photo by Jessica Ashley Silva
Flaming trophies adorned with golden fish and livestock for the winners.
The day flew by, as all ridiculously fun days tend to do. After each round, the judges and volunteers hoarded leftovers like sneaky raccoons, and escaped to the competition area to snag any other samples we could find at the teams' grilling stations (as if we hadn't already scarfed down enough). The day came to a close with Fieri announcing the winners and handing out trophies. There were 16 awards handed out in all, with the grand prize going to the Crosswhite team, which also took first in seafood, as actual doves flew out from behind them. It was glorious. (Inside tip: The Crosswhite folks said that among other things, they used Yoshida's sauce on the chicken and Ted and Barney's meat seasoning on the beef.) The grand-prize trophy, complete with flames running up the sides in true Guy Fieri fashion, was about the same size as the youngest team member to accept the award. Surely barbecue that yummy deserves a child-sized trophy. It was a good day.