Maybe you've sat in the maroon vinyl booth seats at 1134 Fifth St. in Eureka before — when it was a Mexican restaurant, then a barbecue joint, then another Mexican place. But for the last month, it's been Los Sinaloenses.
It's named for the people of the coastal region of Mexico just inside the Gulf of California, the ancestral home of the owners, the Leyva family. That means you should probably order some seafood. The mojarra frita, a small, silver fish native to Mexico, fits the bill well ($10). Scored, seasoned and fried, the skin is rendered a crispy brown and the light white meat is flaky and lovely inside. It comes with a side of rice and beans that you might want to sample first if, like me, you cannot resist using your fingers to pull morsels of fish and crusty, salty bits of skin from the base of the dorsal fin, behind the head and anywhere else a fork would only hamper you.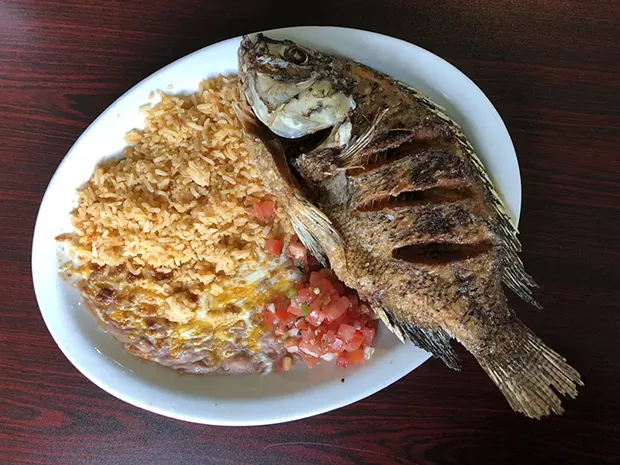 Photo by Jennifer Fumiko Cahill
Crispy fried mojarra.
Another regional specialty to try is the white menudo, a pale, stripped down and barely salted version of the typically red tripe and hominy soup ($4 cup, $7 bowl). It's all the comfort of the classic hangover remedy without the heat (though my dining companion reminds me the chile-induced sweating might be curative, too). A side of the soft, homemade tortillas should level you out either way. (In Sinaloa, according to server Maria Leyva, it's often served with buttered bread, so lobby for adding that to the menu if it speaks to you.)
Photo by Jennifer Fumiko Cahill
Juicy birria tacos. Watch your sleeves.
The beef birria tacos are absent from the printed menu — ask for them ($3.75 each). The tender shreds of stewed meat are tucked in a homemade corn tortilla with cheese grilled onto the inside because that is some people's love language. This is topped with onion and cilantro, as well as a drizzle of intense birria consomé, the product of hours-long cooking. Lean down and eat over your plate — every bite will release heady, salty broth you will not want to waste.
Photo by Jennifer Fumiko Cahill
Sinaloa-style beef barbacoa.
Did you miss Sunday dinner? Consider the house barbacoa, cooked in the style of Sinaloa, with its hunks of falling apart beef, tomatoes, olives, peppers and yellow potatoes doused in rich, all-day stewed consomé ($11). Dredge the pliant tortillas in it. Ask for a spoon if you need one.