The pizza restaurant that once was Eureka's Big Louie's, then Marcelli's, has been repainted an eye-popping green and reopened as Shenanigans (1604 Fourth St.). Given its name and pedigree (owner Kelly Erben runs Gallagher's Irish Pub), you wouldn't be crazy for thinking this is an Irish bar, but it's a pizza joint. Listen, the Romans never did conquer ancient Hibernia (what's up, Agricola?) so there's no point in putting up an Italian flag on Irish turf now.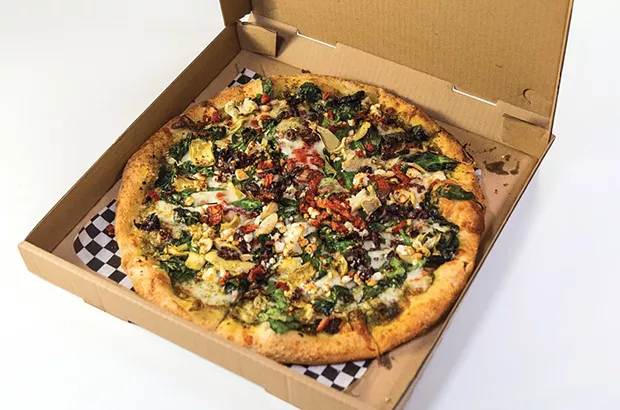 Photo by Zach Lathouris
The medium (14-inch) Fat Greek from Shenanigans.
If there is such a thing as the debatable luck of the Irish, Shenanigans might not have it — its grand opening was nixed by the first PG&E shutdown and its rescheduled ribbon cutting was Oct. 25, just ahead of the second blackout. What the place does have is an honest to God hand tossed crust that has a chewy pull, is crisp on the bottom and ringed with a pebbled, bubbly edge that I will straight take from your plate if you put it down for more than five seconds because I'm sorry that is the law. You will be asked what kind of crust you want — "thick" hand tossed or "thin" rolled — and you want the hand tossed. These pizzas also come in four sizes, the largest of which is a reasonable 18 inches.
There are typical build-your-own options and the house leans toward a saucy pie; order accordingly. But the specialty pizzas are decidedly non-traditional, like the sweet and salty Pig and Goat, with green apple, sausage and goat cheese ($19 for a 14-inch pie). It follows that the best among the pizzas at the place with the Irish name would be the Fat Greek ($19 for a 14-inch pie). Would we say fat, though? This is looking very Mediterranean diet, seeing as it's well covered with feta cheese, spinach leaves, artichoke hearts, strips of sun dried tomato, Kalamata olives and pesto. The crust, a pleasure on its own, is up to the bevy of tart, tangy flavors. Just don't put it down for too long.