The incongruity of a Mexican restaurant on the grounds of a golf course lessens as you sit in a snug window booth at Cocina Mariposa (4750 Fairway Drive, Eureka), which you enter via the pro shop, and watch the sunset. On a recent rainy evening, when a lone golfer was whacking balls into the lake of the flooded Eureka Municipal Golf Course, it even offered waterfront dining. Besides, owner Marisela Salas was previously at Beau Pre Golf Course doing happy hour tacos on Fridays, so I'm declaring it an official niche.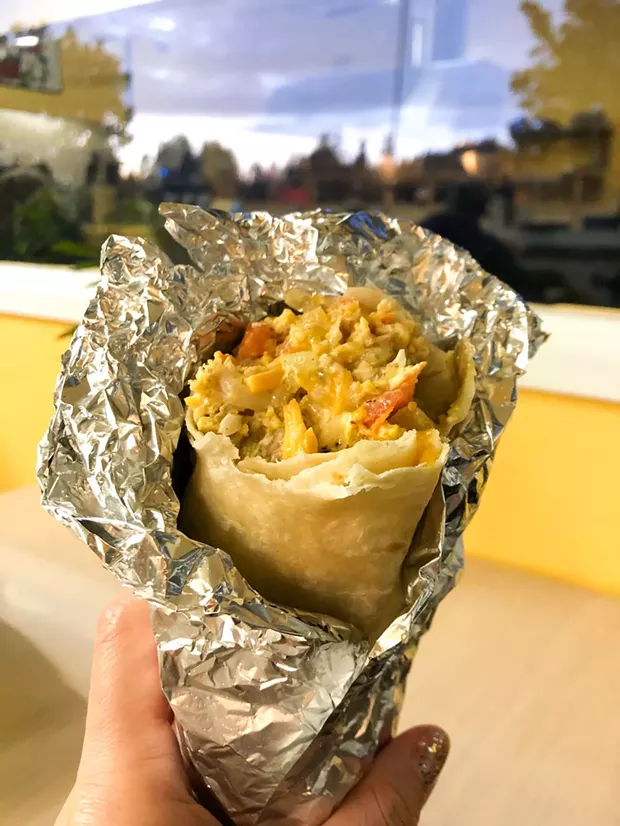 Photo by Jennifer Fumiko Cahill
The carnitas machaca burrito.
Golf, from what I hear, yields frustration, which is an emotion best handled with tacos and/or breakfast foods, both of which are on offer. The fried fish taco on a homemade corn tortilla is a bright little pile of battered Alaskan pollack chunks, pico de gallo, red cabbage and chipotle aioli ($3.50). The green sauce is a tart addition for those who aren't quite up to the hot red salsa — don't be fooled by the presence of polo shirts, it's no joke. Salas, who learned to cook Michoacan dishes from her mother, Graciela, with whom she runs the place, offers a pro tip: The oil-based salsa macha is less deadly on cold foods. Proceed accordingly.
Happily, the machaca burrito, along with the rest of the breakfast menu, is available all day ($7.99). Also good news is the carnitas option — something Marisela picked up in Los Angeles — with scrambled eggs, cheese, pico de gallo and soft pan fried potatoes. It's wholly satisfying and, with a Ball jar of homemade horchata ($2.50), a complete meal as far as I'm concerned.
The barbecue chicken burrito may not speak to the traditionally minded but the sauced-up, char-grilled chicken thigh meat and the firm pinto beans are a sentimental pleasure for those of us who've lived in Isla Vista, California, or anyone who simply cannot get enough barbecue ($8.99).