If you go to Fat Anne's Bakery & Bistro's new spot on Main Street in Ferndale (939 Main St.), get the fried chicken. Then tell me what it's like because the fryer was down on the day I visited, though I hear it's being remedied. It happens! But there is little that can stop my body-shaking sobs when I psych myself up for fried chicken only to be denied.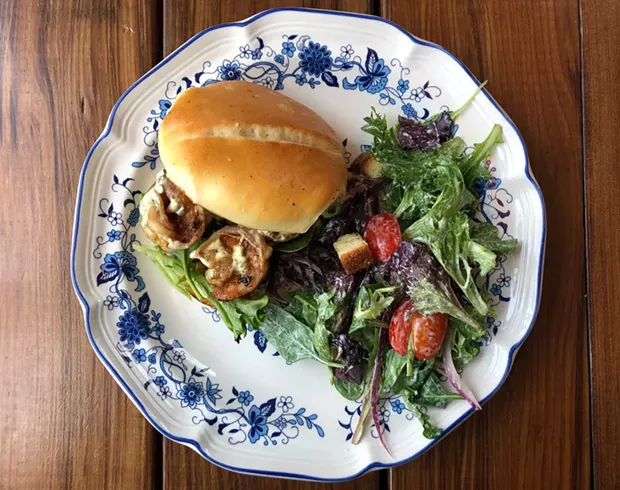 Photo by Jennifer Fumiko Cahill
The shrimp po' boy with remoulade and salad.
Which is why the blackened shrimp po' boy on the lunch menu is remarkable for having cheered me up ($15). The very plump shrimp are curled up in a soft, dense hoagie roll (baked on the premises), rather than French bread, and are grilled to firmness and no further. The smoky char of butter and Cajun seasoning let the flavor of the seafood through and the homemade herbed remoulade would probably make anything taste good and was a balm for my soul. The menu announces slaw but mixed greens with lovely house made croutons and ranch dressing are a fine swap.
Do not dismiss the power of homemade ranch dressing — it is another creature entirely from the bottled stuff in which someone somewhere is currently drowning a slice of pizza. (Not judging you, ranch-pizza lovers — this world is hard and if you find something that makes you happy, hold onto it.) Take a moment to appreciate what a light toss with the fresh stuff, creamy and herby, does for ordinary spring mix. And for sobbing strangers.