You may recall we reported back in April that Ferndale's spiky-haired son Guy Fieri has been working with the National Restaurant Association to
raise money for restaurant workers
who've been laid off as a result of the COVID-19 pandemic. That collaboration has already come up with $20 million in relief funds. (Psst: If you're a restaurant or bar worker and have received any of these funds, let us know.) And now the host of "Diners, Drive-ins & Dives" is taking it — like a Bloody Mary with a rasher of bacon, skewered jalapeño poppers and a whole-ass hot dog jammed in it — to the next level with a celebrity nacho battle to raise more money.
Fieri and Bill Murray went on the "Tonight Show with Jimmy Fallon" to talk about their nacho rivalry as Fieri attempts to teach Fallon to make the classic app, and also to hype their upcoming battle. Well, their sons' battle anyway. Hunter Fieri and Homer Murray will face off Friday live at 2 p.m. on the
Food Network's Facebook page
during the Nacho Average Showdown, with their dads whooping from the sidelines, to raise more money for the restaurant relief fund.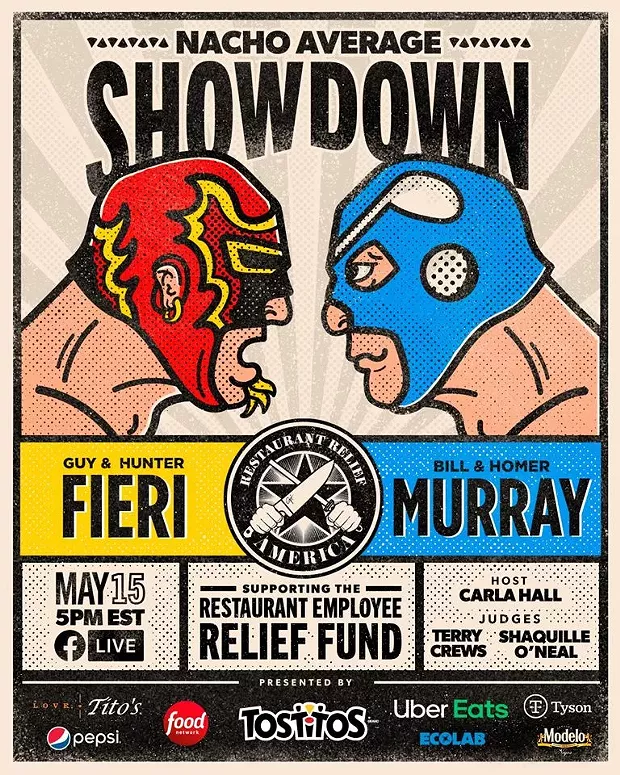 Was this pairing of the saucy and comfortingly cheesy Guy Fieri and the tortilla chip-dry humor of Bill Murray inevitable? Let the chips fall where they may.