The former Rita's Mexican restaurant on Harris is empty no more, festooned with black, gold and green Jamaican flags and filled with the smell of simmering oxtail. Jerk Kitchen, the popular
Jamaican stall
at the Arcata Farmers Market, has found a home there and plans its official opening Friday.
Husband and wife owners Joanne Kerr and Dell Bryan are serving a limited takeout menu Tuesdays, Thursdays, Fridays and Saturdays, with rotating entrees — curry chicken, beef stew, oxtail — and their signature jerk chicken every day, along with traditional sides like plantains and rice and peas.
Jennifer Fumiko Cahill
Jerk Kitchen flies its colors at the old Rita's on Harris Street in Eureka.
After signing the lease in February, Kerr and Bryan spent most of shelter in place renovating the interior. But they're not opening for dining yet. For updates on the menu, check the restaurant's Instagram @the_jerk_kitchen.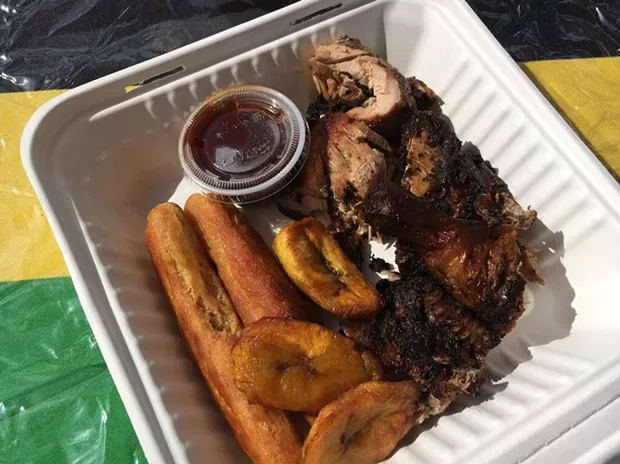 File
Jerk Kitchen's former offerings at the Arcata Farmers Market.