Many a dirndl was rent in mourning over the closure of Stuft Potato, the sole local source of spaetzele, jaeger schnitzel and scores of other Austro-German delights. Now at least we may feed our emotions at the Raliberto's Taco Shop that has sprung up in its place.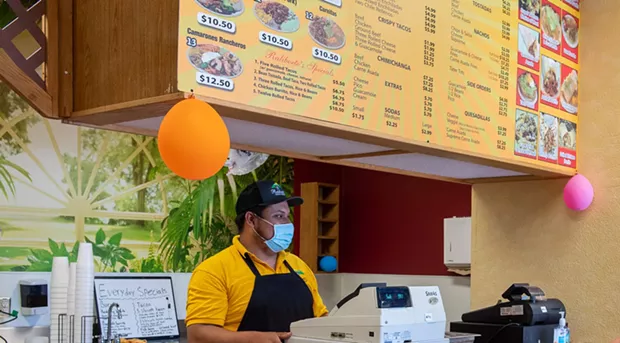 Photo by Mark McKenna
Masked service at the new Raliberto's Taco Shop on Broadway in Eureka.
According to Roberto Hernandez, whose family owns this branch of the franchise, it opened on Friday for both takeout and dine-in service at five tables. The menu is the same as the popular outpost by the county jail on Fourth Street, including the only
carne asada burritos
that briefly return the spark to the eyes of homesick San Diegans.
Photo by Mark McKenna
The name isn't even on the door yet but it's definitely a Raliberto's.