Sitting at home wanting chocolate when there is no chocolate is not a new problem. However, it's one the folks at Dick Taylor Craft Chocolate have been prompted to solve during shelter in place. After closing in accordance with the county shutdown in March, the local bean-to-bar retail operation began offering its bespoke bars and upscale, small batch chocolate treats via Door Dash delivery. And it has expanded its menu to cookies, brownies and s'mores, all available for delivery, as well as in-store and curbside pick-up.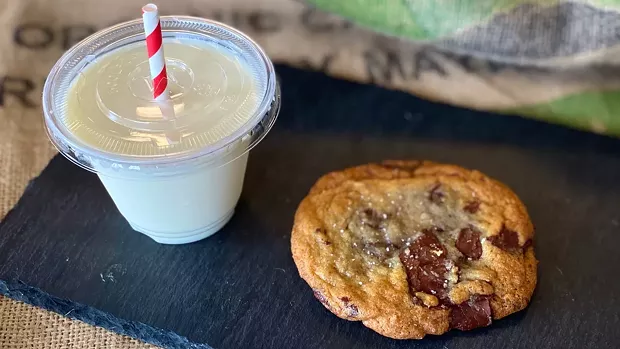 Submitted
Alexander Family Farms milk and a fleur de sel chocolate chip cookie from Dick Taylor Craft Chocolate.
Sales assistant Rachael Martinez says the shop started offering its baked goods about a month ago. Co-owner Dustin Taylor's wife Rebecca "is an incredible baker," says Martinez, and she prepares everything with the house chocolate, down to the cocoa powder. On the menu: double chocolate chunk ($3.50), chocolate chip with a sprinkle of fleur de sel ($4.50), fudge brownies with peanut butter ganache ($4), DIY s'mores kits and prepared s'mores for those of us without the patience for a perfectly browned marshmallow. You can add a bottle of Alexander Family Farms milk for the full wholesome experience ($6, milk and cookie) and staff will even warm your cookie for you.
Submitted
Rebecca Taylor's peanut butter ganache-topped brownie.
The drinking chocolate once available only in the shop is now on the to-go menu ($4-$4.50), too, including Belize, chai and the aptly named Campfire, which comes with pecan wood-smoked maple syrup and a toasted marshmallow. "You got all the flavors without the work," says Martinez.
Submitted
The Campfire sipping chocolate.
Pro tip: If you're ordering via Door Dash, it's worth checking to see if you can give local businesses a break by ordering through Storefront on their individual websites, as the company is waiving its usual commission through the end of the year.