If you're like me, you want two things right now: bread and for this year to just be over.
Well, Rosh Hashanah, the Jewish New Year begins on Friday, Sept. 18 at sundown, when people all over the world will celebrate the end of the Hebrew year 5780 and the start of 5781. Among the traditional holiday foods are rounds of challah bread, symbolic of the year, endless blessings and a crown recognizing God as king. (NPR has a great piece on challah and its many forms
here
.)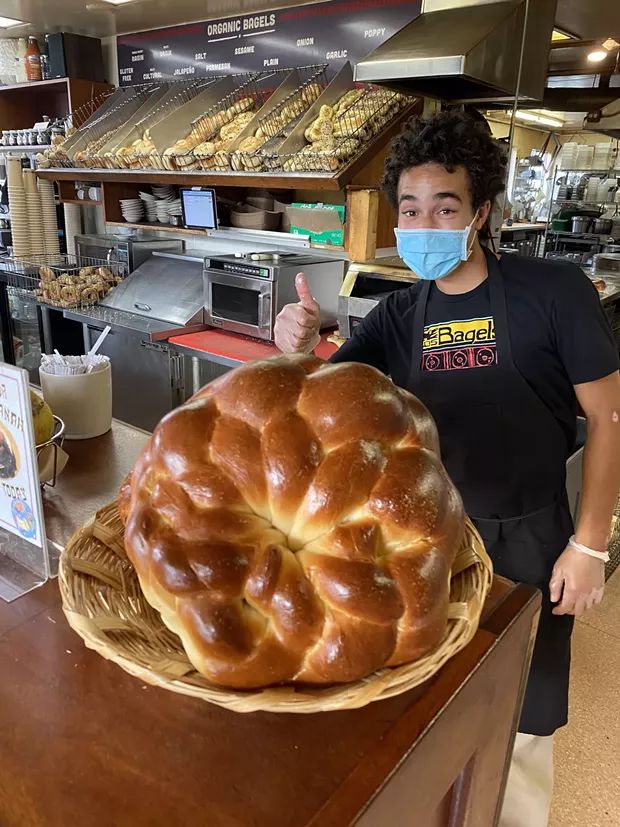 Courtesy of Los Bagels
This is a big challah. But we believe in you.
In celebration, Los Bagels has rounds of challah — glossy and browned outside, egg-rich yellow and pillowy soft inside — in three sizes: 11 inches ($6), 18 inches ($25) and 24 inches ($30). If you're considering the big one, let me offer my support. Fresh challah is lightly sweet and utterly satisfying on its own, though impossible to refuse with a little jam and butter. Leftover, it makes for the most wonderful French toast and bread pudding.
If you're lucky enough to be with family, pulling a piece each from the round and sharing is exactly the comforting ritual for which the moment calls. It won't make 2020 or its calamities go any faster, but it might remind us, like the traditional Rosh Hashanah dish of apples dipped in honey, of the sweetness to be had in the future, and even now.
Shanah tovah
.