Where once Tasty Tacos sold its generous namesake in Cutten, Mi Little Oaxaca Bakery & Cafe has opened its doors. Owner Jose Chavez Posos started turning out custom cakes, cupcakes, sandwiches and tortas in early December of last year after selling cakes out of his home. Chavez Posos' says this is his first business in the U.S. but, after culinary school in Mexico, he worked with his family business selling wings, burgers and tomato-y beer
micheladas.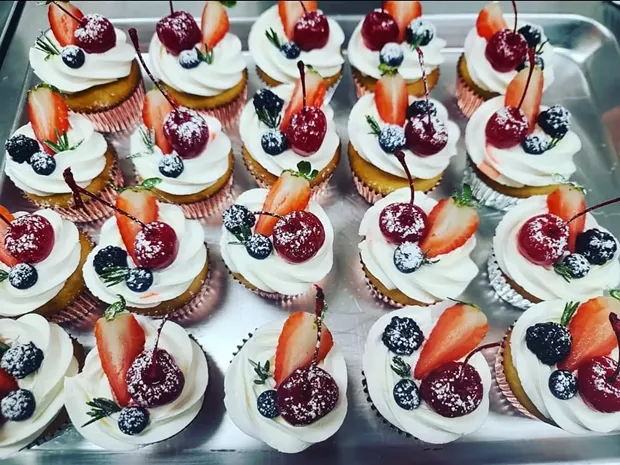 Submitted
Strawberry coulis-filled vanilla cupcakes at Mi Little Oaxaca Bakery & Cafe.
On the menu are a handful of sandwiches from turkey pesto and pastrami to milanesa and asada tortas, as well as a Oaxaca salad with strawberries and mango. The tres leches cake, Chavez Posos says, is a big seller. But if you crave a fruity
geletina,
you can special order a mold to send you into deep nostalgia. "I do everything with a lot of love," he says. "Every time I cook something for the client, I think that this dish would be for me and I try to do the best."
Submitted
A mango-topped custom layer cake.