While the pandemic has robbed us of so many simple pleasures, getting a burrito from a truck parked at a gas station and eating it in your car in blissful solitude is not one of them. A week ago, Taqueria Martinez parked at the Texaco station on the Eureka side of the Samoa Bridge and reminded us to count that blessing.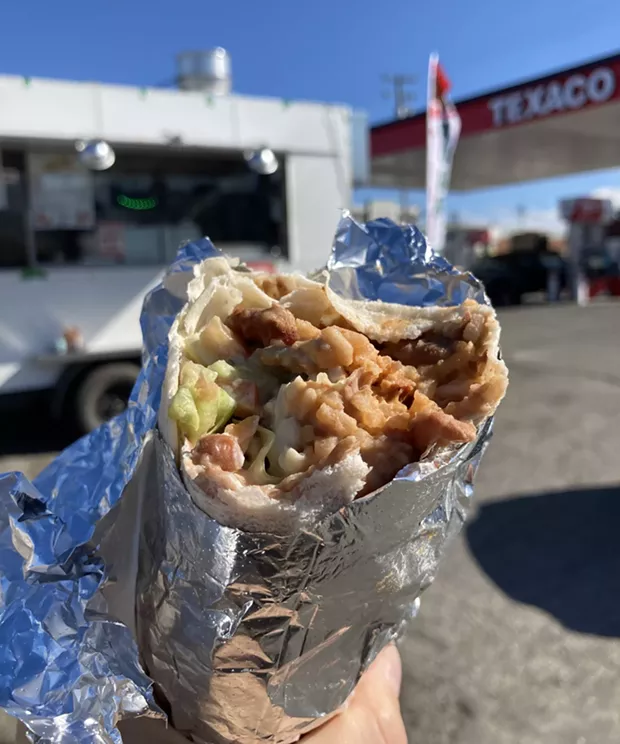 Photo by Jennifer Fumiko Cahill
Miguel Santiago's asada super burrito at Taqueria Martinez.
According to his son Christo, owner Miguel Santiago worked in kitchens at Shamus T. Bones, Rita's and Taqueria La Barca before striking out on his own. On the menu are Santiago's Oaxacan and Azteca-style burritos, tacos, tortas and quesadillas, including an ochre-tinged asada marinated with chile California and mixed with grilled red onions. He's hopeful the different flavors will set Taqueria Martinez apart from other local offerings. Translating for his father, Christo says, "There's no other place you can get food like this truck."
Photo by Jennifer Fumiko Cahill
Francisca Vereugo, maker of the green and red oil salsas.
Christo says the salsas — both the green and hotter red oil (*blots brow) — are his mother Francisca Vereugo's recipes. She makes them by first roasting the chiles, then blending them with stewed tomatoes and finishing the batch in the oven.
The little truck is open daily but cash only until its DoorDash setup is complete.