No shade on the long-ago Shanty hot dogs but the solid food offerings have leveled up recently. A peek at the Shanty's (213 Third St., Eureka) adjacent lot finds a lit patio built by a friend of the bar and a red truck with a sandwich board menu that will allow the bar to stay open under COVID regulations.
Photo by Mark McKenna
The Shanty truck parked beside its recently built parking lot patio.
The New Orleans offerings are an homage to owner Lynn Sandstrom's wife Rana Krueger, whose 2020 death friends and regulars marked with a second line brass band parade through Old Town. Stacie Nunes, one of the bar's managers, says, "Mardi Gras was one of her favorite bar holidays and we wanted to honor her and everything she meant to the Shanty."


Photo by Mark McKenna
The Cajun-spiced Shanty burger.
To that end, co-manager and bartender Jon Fisher, with assistance from bartender and former chef Mike Vitiello, put together a lineup of hushpuppies, red beans and rice and fish po'boys, as well as a Shanty burger with remoulade. New Orleans-style Brabant fried potatoes take a tumble in garlic butter and Cajun spice, and come with sauce vert and remoulade. Order the Shanty fries and get them under red beans and andouille sausage, melted Swiss cheese, scallions and parsley.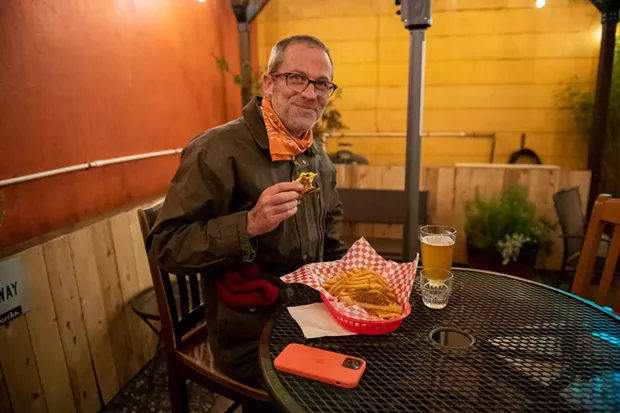 Photo by Mark McKenna
Enjoying Brabant fries and a grilled cheese under the Shanty's patio heat lamp.
Times, Nunes notes, are tough and the bar hopes to give its regulars a break with items priced from $4 to $11. "We tried to keep it really cheap because we know people have to buy food in order to get a drink," says Nunes. Not as cheap as a Shanty dog but close.
<!——EndFragment——>
Editor's note: This story has been updated to reflect Jon Fisher's role in creating the menu.