After closing briefly upon of the death of its locally beloved proprietor
Esteban Gonzales
, Esteban's is open once again. His wife, Francisca Gonzales, reopened the tiny Mexican institution on March 4 with help from her nephew Luis Cilveron. Esteban was hospitalized in December of 2020 with COVID-19 and, despite the virus having left his system weeks later, succumbed to pneumonia in January of 2021. According to him, the family used the funds donated by community members to pay for Esteban's funeral and to reopen the restaurant.
Photo by Jennifer Fumiko Cahill
An ofrenda for Esteban Gonzales.
"She is the one who puts all the flavor in the food — she is the one," says Cilveron. That flavor, in the pastor burrito and its deep orange rice, for example, remains the same as when he stirred the pots in the side kitchen and passed food across the tiny counter. "She's working hard to keep the legacy of Esteban, with the food the way he want it." But it's not always emotionally easy.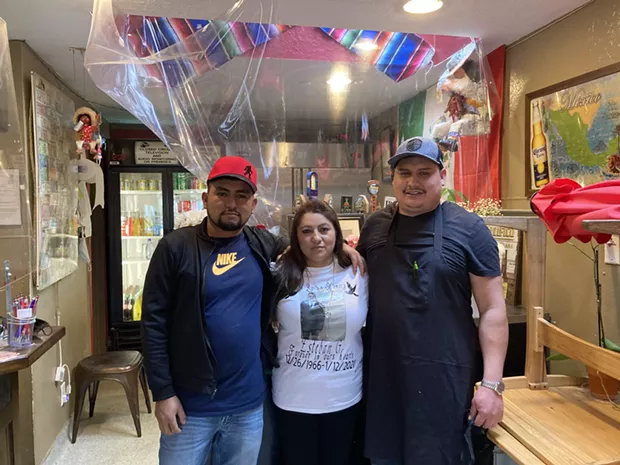 Photo by Jennifer Fumiko Cahill
Fernando Bazan, Francisca Gonzales and Luis Cilveron at Esteban's.
Wearing a T-shirt with her late husband's image, Francisca comes out from the kitchen to stand by the portrait of him on the side counter, flanked by candles and flowers. Cilveron translates for her, saying it's hard sometimes because she has so many memories of him in the shop, where he was always talking and laughing.
Photo by Jennifer Fumiko Cahill
Esteban's excellent pastor burrito with homemade beans and rice.
The restaurant, now open 11 a.m. to 7 p.m. Monday through Saturday, recently won the Arcata Chamber of Commerce's Business of the Year award, selected by the city council and the Arcata Economic Development Committee. Still, traffic has been slow so far, as many people may not know Esteban's is open, says Cilveron, though some regulars stop in and ask after the family. "A lot of people miss him," he says.