Passersby have been either celebrating or scratching their heads at the sign for Nori (761 Eighth St.), heralding another sushi place joining Tomo and Sushi Spot on the Arcata Plaza. But according to its owners, the soon-to-open restaurant in the downstairs spot where Salt Fish House started out before moving to I Street will have a decidedly pan-Asian menu.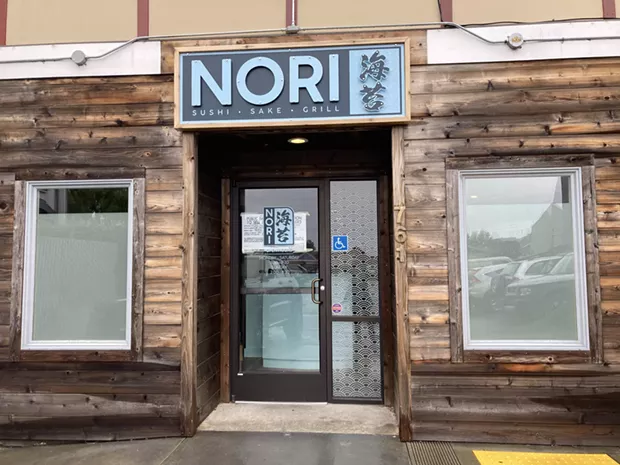 While Joe Tan and Jack Wu, both among the partners at Eureka's Bayfront, are planning to offer sushi from the gleaming white counter, the bulk of the menu will be a spread of Taiwanese teppan dishes presided over by chef Yee Wen, whom diners may recognize from the teppanyaki grill at Bayfront. Wen's cooking will be behind the scenes at Nori and he'll be working with different flavors, like black pepper and mushroom sauces for the meat, seafood, tofu and noodles served on searing hot metal plates.

Tan is still making sushi at Bayfront, where he's worked since 2017, but he'll be covering the new Nori's counter for at least a little while when it opens, training new chefs. (When that will happen is dependent on a few final repairs and the installation of a couple sinks. But it's building the sake bar that makes Tan giddy. "Sake is gonna be one of my favorite parts," he says. At Little Japan in Henderson Center, Tan says, "I always just stand there looking at the sake selection." He's still finalizing the list but guesses the bar will carry 20 or more sakes, including cloudy nigori sakes flavored with coffee and yuzu. Expect shochu and shochu cocktails at the bar, as well.

Born in Malaysia in the mountain town of Ipoh near Kuala Lampur, Tan worked in Japan for six years, with stints in Ginza and Tsukiji, home of the famed Tokyo fish market, at an upscale kaitenzushi (conveyor belt sushi) restaurant. But as a foreigner, his career was limited. "In Japan they're very traditional, so they don't let me stand in the front," he says. In the U.S., those barriers drop significantly. "If I still work in Japan, I'm still just a worker, I'm gaijin," he says, a foreigner.
The challenge here is to make sushi with sometimes hard-to-source ingredients and to adapt to local produce and palates. "I keep bugging the seafood company here," says Tan, who's scouting aji (horse mackerel) and kanmpachi (amberjack), among others. The traditional nigiri, rolls and sashimi will come alongside 10 American-style specialty rolls, with the combinations and sauces that have proven popular in Humboldt and beyond, if not in Japan.
Upstairs in the former Mazzotti's, where Wu has leased the space on his own, things are still up in the air. (As they are for Mazzotti's, which owner Joe Mazzotti says he hopes will "reopen soon" in a new location.) The prime plaza location and liquor license seem to Wu to have potential as a restaurant, bar or nightclub, but so far, getting staff and contractors lined up in a pandemic has been tough. The past year, Wu says, was "terrible" but he's still putting his money on starting something new.