Redway could use more places to eat, especially on Evergreen Drive, and now it's got that and then some. In January, Laura Lasseter and her family have opened up Cafe Feast in the old Meadows Cafe location. The menu still isn't committed to laminated paper but a roster of items is developing, like the meatball street tacos and the marinated tri-tip sandwich with caramelized onion, organic greens and balsamic glaze. "We really wanted to be open," says Lasseter, "we wanted to hear what everybody wanted ... we're trying to see what works in our small kitchen."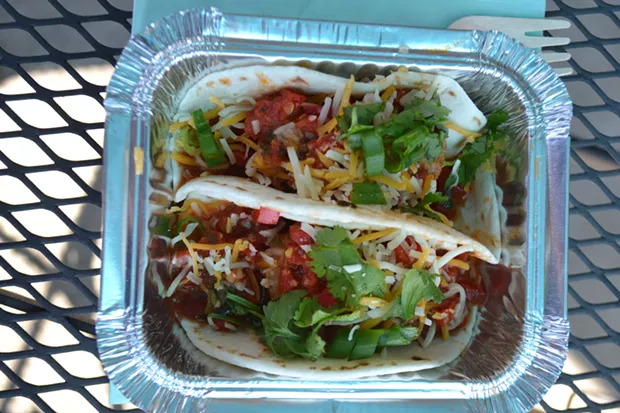 Photo by Melissa Sanderson
Cafe Feast's meatball tacos.
<!——[if gte mso 9]—><!——[if gte mso 10]—> <!—[endif]——> <!——StartFragment——>
Lasseter, who's also director of operations at the Southern Humboldt Visitor's Bureau, says the grab-and-go sandwiches are popular with customers coming in on the way to the Avenue of the Giants and the Lost Coast. The breakfast tacos, forgivingly available until 1:30 p.m., are popular with everyone. She's got Brio pastries four days a week, too. The goods go out the door or onto the patio — which has a mountain view — in recyclable and compostable to-go containers, with wood forks and corn-based spoons. "That matters to us," she says.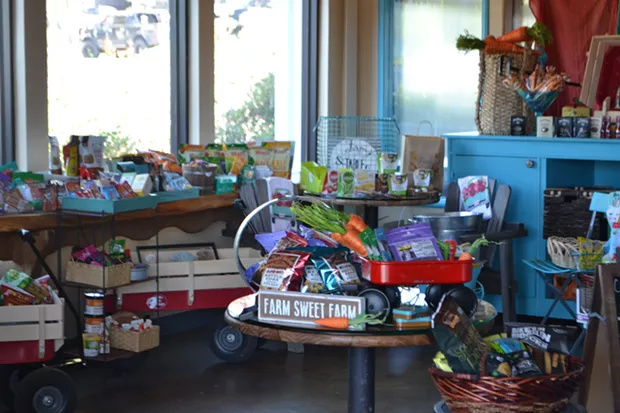 Photo by Melissa Sanderson
Stacks of snacks on the shop floor.
<!——EndFragment——> And if you're feeling snacky, the shop has a bevy of travel-friendly packaged snacks from Japanese Pocky to cake bites to schmancy artisanal cookies, crackers and chips. <!——EndFragment——>