After a soft opening April 29, Danny Emmenecker's fledgling food truck South G Kitchen has settled into the spot behind the Arcata Redwood Curtain Brewery (550 S. G St., Arcata), serving "pub fusion," food that's "familiar but elevated," with elements like kale slaw for the fish and chips and homemade pickles. "The beer at the Redwood Curtain is for a sophisticated palate and I believe our food truck is, too," he says.
Photo by Jennifer Fumiko Cahill
Ribeye tacos with black garlic aioli and pickled shallots.
Originally from Michigan, Emmenecker says he worked in kitchens there, in Colorado and the Bay Area before settling in Humboldt six years ago. Some of the draw is the natural landscape and his love of trail running, which is how he spends his time off. Locally, he lists Mazzotti's, Salt, Harvest, Brett Shuler Catering and Loco Fish Co. on his resume. "I've always love line cook culture," he says, "food is my creative outlet."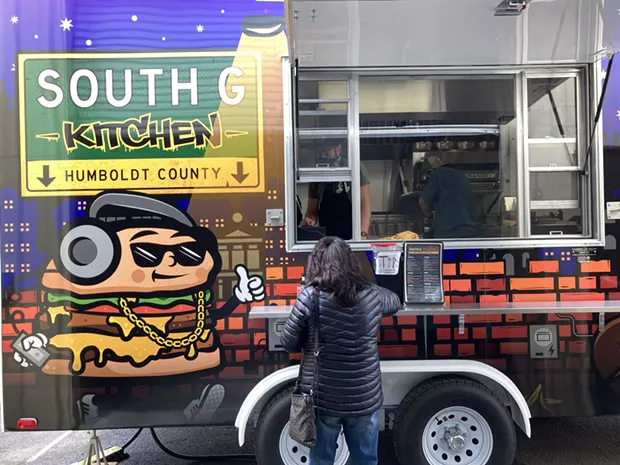 Photo by Jennifer Fumiko Cahill
The menu is stacked with items like a miso-dressed salad with black rice and fried kimchi, a French onion cheesesteak and calamari with a sprinkling of hot peppers and fried lemon slices, as well as a room for specials. Emmenecker's personal favorite is the well-stuffed black garlic beef tacos: sliced ribeye on flour tortillas, topped with pickled shallots, sautéed mushrooms, balsamic caramelized onions, crispy shreds of fried sweet potato and slow-cured black garlic aioli. "I don't think there's a lot of completely original ideas in food," but this dish, he says, is "a thing that came from my head." Well, everything but the taco part, anyway.
Photo by Jennifer Fumiko Cahill
Pepper-punched calamari.
There are vegetarian offerings, including a red bean-based counterpart to the wagyu beef smash burger, a fish sandwich and snacks like roasted Brussels sprouts with bacon and Danky Bread — a French roll with layers of cheese and pesto, served with red pepper sauce. Find the truck, painted with cartoon burgers, pickles and fish, in the Redwood Curtain lot from noon until late — check Facebook and Instagram for schedule updates. <!————EndFragment————>