Opening the county's first cannabis consumption lounge without food would have been an opportunity missed. And so the upscale Pig and Leaf truck is installed at Papa & Barkley Social's patio (4325 Broadway, Eureka), complete with heat lamps and fire pits, on the site of the old Kmart that, I'm told, opened with the fanfare by the Eureka High School marching band back in the '80s. The only throwback from that period now is the sign for a smoking section.
Photo by Jennifer Fumiko Cahill
The Pig and Leaf truck.
The minimalist black Pig and Leaf truck is one of three food operations Pawel Gago, also owner-operator of Pizza Gago, is executive chef for as part of the expanding Humboldt Social empire, along with Jetty at the Humboldt Bay Social Club and the restaurant in the works at the Scotia Lodge.
"I always said I didn't want to open a restaurant and now I'm opening multiple ones," says Gago over the phone. Mobile businesses, he says, always appealed for their flexibility, which paid off during the pandemic, when he was able to put the pizza kitchen "on pause" without worrying about rent or other pricey overhead concerns of brick and mortar restaurants.
If the name has you dreaming about infused bacon, sorry; serving food with cannabis still forbidden by the health department. On the bright side, you'll find a menu going broader and aiming higher than one might, given that some of its patrons will be there for the weed and enjoying its palate-boosting effects.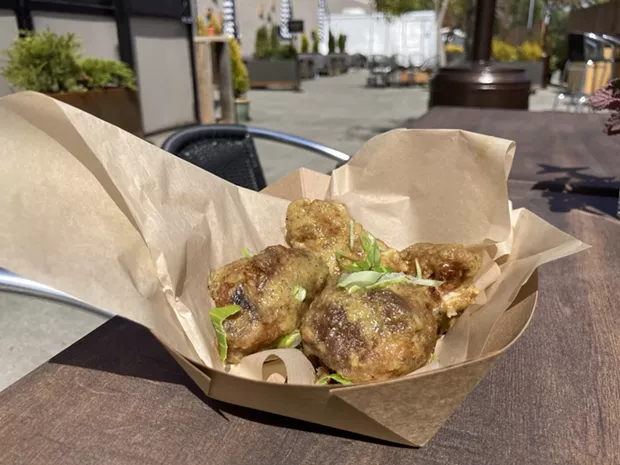 Photo by Jennifer Fumiko Cahill
Pork shank drumettes.
As with his pizza menu, Gago built Pig and Leaf's menu around "things I like to eat — big, bold flavors," with influences and spice profiles drawn from Middle Eastern, Latin American and Asian cuisines, with vegan jackfruit options. The pork drumettes, morsels that easily slip their fore shank bones, come with the option of an Indonesian-inspired coconut, pineapple garlic, onion and turmeric glaze. The Eastern Mediterranean lamb pita takes advantage of the charring of a vertical broiler and overnighting in a Turkish marinade of allspice, cardamom, cinnamon, cumin and black pepper.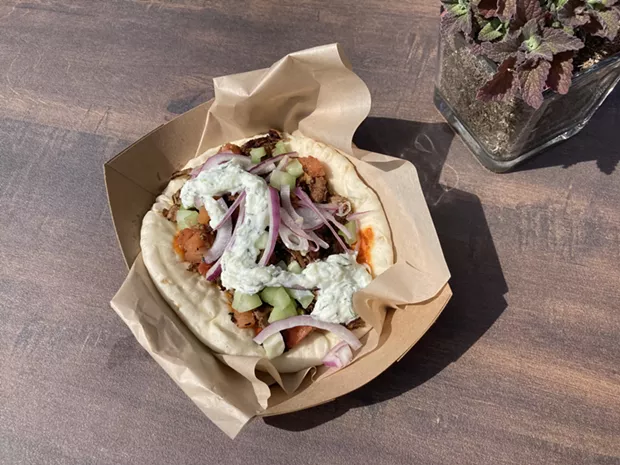 Photo by Jennifer Fumiko Cahill
The Eastern Mediterranean lamb pita.
It's a favorite of Head Chef Olivia Resendes. "The flavors are so warm, it's really beautiful." Also near and dear to her are the take on churros, fingers of eggy pâte à choux dough fried and tossed with cinnamon sugar, served with a ganache that's equal parts chocolate and cream. She first made them from leftover dough at the Carter House's Restaurant 301, where she served as executive chef before the pandemic. "It was just one of those things borne out of experimenting and being hungry," she says. It's a bit of a logistical challenge in a truck but worth it. (For traditional Mexican churros, however, she heads to Eureka's El Pueblo Market and Panaderia at 312 Washington St.)
Photo by Jennifer Fumiko Cahill
Pâte à choux churros with warm chocolate ganache.
Resendes, who's listened to many a restaurant kitchen staffer daydream about the freedom of a truck, may be a convert to mobile service. She says it's a sprint in comparison to the marathon of serving courses and customers' expectations are focused more on the food and socializing than being served. "You walk up to the window, you're kind of yelling your order because it's loud," she says, laughing. "You're here to relax … it's a different mindset than going out for a five-course meal and it's just different. It's very good."
<!——EndFragment——>