With all the excitement over the newly opened Redwood Sky Walk at the Sequoia Park Zoo (3414 W St., Eureka) and its elevated view of the big trees, it's easy to miss changes on the ground. But descend the ramp, hang left past the flamingoes and the otter habitat, and you'll come upon the newish Ecos Cafe, completed during the pandemic.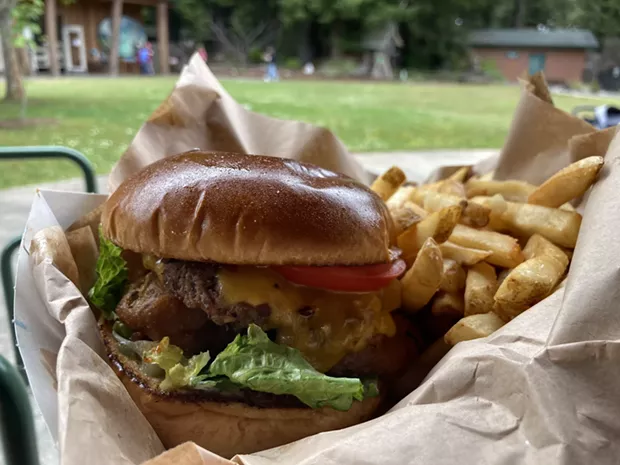 Christine Silver — owner of Sixth & E Neighborhood Eatery, Delish on 5th and Humboldt Soup Co. — has taken over the cafe catering to zoo visitors under the watchful eyes of tree-lounging red pandas painted on the walls by muralist Blake Reagan. And while I have fond memories of the old cafe's grilled cheese, which already shamed the sad nuggets and flimsy burgers offered in most zoos and museum cafeterias, the menu has evolved.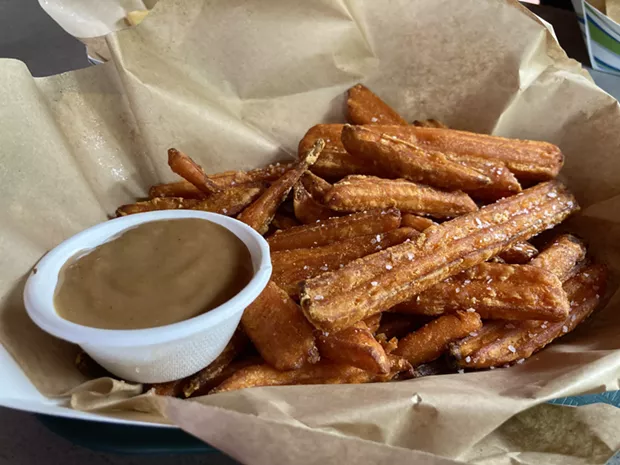 The western burger, topped with a thick onion ring, cheddar cheese, lettuce, tomato, pickle and barbecue sauce on a toasted bun, is solid. So are the thick fries you might sub for the sweet potato species, which are soft and steamy inside, sprinkled with sea salt and served with a little paper cup of peanut sauce. There's a house-made chick pea and vegetable burger on offer, as well.
If you were hoping to snag a chicken finger from your kid's plate, one might not do it. The fried chicken strips are brined overnight, dredged in buttermilk and fried for a crisp crust and juicy interior. (PSA: In this brief, often cruel life, you do not need to eat unseasoned fried chicken breast that relies on the crust to impart flavor. You just don't.) Dipping the tenders in ranch dressing at a picnic table on the covered patio post-Sky Walk should be part of your calculus when deciding whether to invest in that annual zoo membership.