Muscle memory still brings the odd patron to Las Michoacanas (1111 Fifth St., Eureka) thinking it's still Rita's. Don't feel bad for them. New co-owners Socorro Sanchez and Perla Sanchez (no relation) have made themselves at home with a full bar (no margarita mix, just the real thing made to order) and a menu with Western Mexican specialties hat reflect both women's Michoacán roots.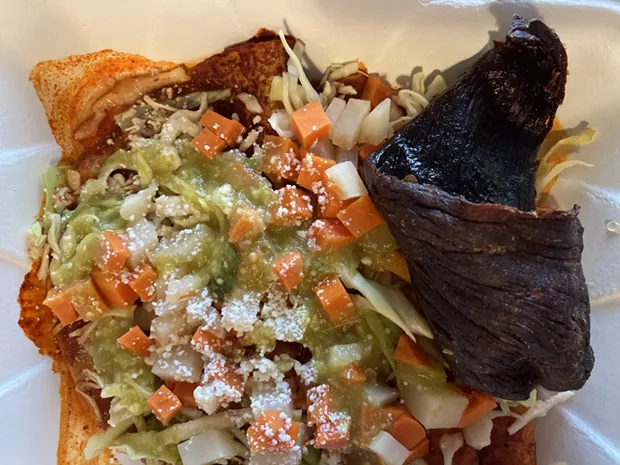 Photo by Jennifer Fumiko Cahill
Enchiladas Michoacanas with a curl of flash-fried dried beef.
Those looking for tacos, burritos and enchiladas will find them alongside regional takes. For the enchiladas Michoacanas, the action is on the outside, with a mere swipe of red sauce and cotija cheese inside three homemade corn tortillas that are cooked in sauce and topped with carrots, potatoes chopped cabbage, tomatillo sauce and more cotija, as well as a curl of crunchy, cecina, flash-fried dried beef. The cecina, says Socorro, a Humboldt native, is sourced from the Bay Area but a must-have when visiting the Mexican state from which her family hails.
Photo by Jennifer Fumiko Cahill
Crispy little street-style tacos ahogados.
"Tacos
ahogados
,
morisqueta
, everywhere you go there's little booths that sell that," says Socorro. Perla cooks up both in the kitchen. The tacos ahogados make for a light appetizer — a trio of crispy fried mini tortillas filled with shredded chicken or beef and topped with cabbage and a loose salsa of tomatoes, onions and chiles. Douse them in the accompanying creamy orange sauce, which is a brighter, tangier than usual showcase for the smoke of chipotle.
Photo by Jennifer Fumiko Cahill
Homey pork and tomatillo morisqueta.
The morisqueta is the heartiest, homiest option. Hunks of pork on the bone are cooked in a tart tomatillo sauce with just enough heat to warm your cheeks, then scooped over soft white rice with rich, scratch-cooked pinto beans. The brimming container is tricky to carry out but you'll be grateful to hunker down in the privacy of your own home and use your fingers to get every last morsel.
<!———EndFragment———>