Under a cloudless sky, a five-piece Mexican band played to the side of the parking lot at the Oct. 9 grand opening of Taqueria Tecoman (2003 Eich Road, Eureka). The speakers were cranked high enough to cause ripples in your horchata.
After nearly three decades of working in restaurants from Rita's to Chapalas to Jalisco's, owner Enrique Perez, ready for a business of his own, took the lease at the Tecoman spot in 2020. In the dearth of restaurant options on Humboldt Hill, he saw an opportunity. His hope was to set up a taqueria like the ones in his hometown of Mexico City. "You know, you eat on the street," he says, noting the importance of the house made beans and tortillas, as well as al pastor cooked on a
trompo
, or vertical spit.
Photo by Jennifer Fumiko Cahill
The sincronizada, the lighter cousin of the quesadilla.
For now, the lineup includes basic soft tacos, as well as
mulitas —
queso blanco, whole beans, salsa and meat grilled between two corn tortillas, their surfaces pebbled and browned. The larger
sincronizadas
on grilled homemade flour tortillas are lighter and less cheese-centric than their quesadillas, with meat, whole beans, tomatoes and grilled onions balancing out the queso blanco. Both are served with the simplest guacamole for which fresh jalapeño is chopped fine as salt. Consider trying it with the al pastor pork, deep ochre with seasoning and flavored with pineapple, cilantro and onion.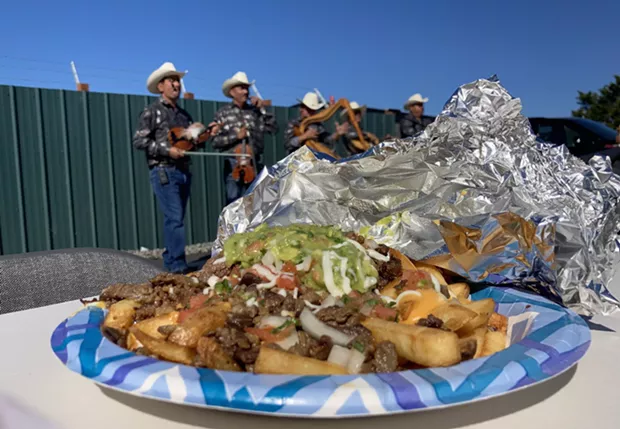 Photo by Jennifer Fumiko Cahill
Tecoman street fries with carne asada.
The Tecoman street fries are chunky, slathered in nacho cheese sauce (a controversial move but the only truly fair way to distribute cheese) and topped with meat, pico de gallo, crema Mexicano and spears of pickled jalapeño. Proceed slowly. Same advice goes for Enrique's Bomba Tecoman, a burrito with everything and all three available meats: grilled chicken (deceptively pale but well marinated), grilled chopped beef and the aforementioned al pastor.
Photo by Jennifer Fumiko Cahill
The day's offerings of agua fresca, including horchata, cucumber and mango.
Check behind the counter for the day's agua fresca offerings. The mango agua fresca, rimmed with chamoy, is bright and sweet, and the horchata is mild and maybe just what you need if you went hard on the fresh salsas.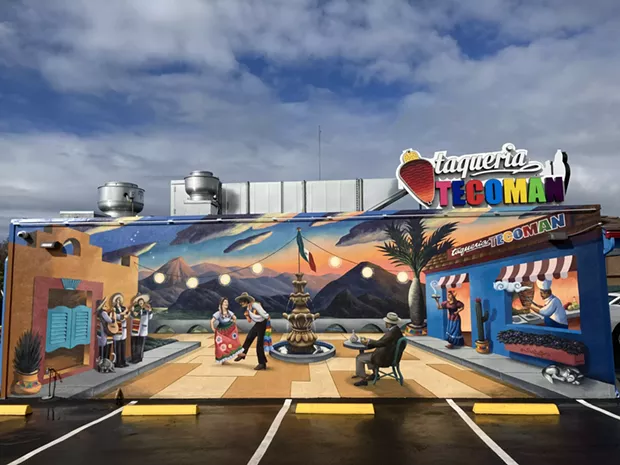 Photo by Jennifer Fumiko Cahill
Lucas Thornton's mural at and of Taqueria Tecoman.
Perez has given the joint a cheery makeover inside and out, including a mural by local painter Lucas Thornton, whom he saw painting in Old Town during the Street Art Festival. The commissioned piece is colorful and meta: In a town square at sunset, with mountains and a volcano in the distance, a mariachi band plays, a couple dances by a fountain and a diner waits for his meal, which we see a server carrying out from — where else? — Taqueria Tecoman.