We did not expect to get hit with
Sugar Bear
fever but here we are. The victory lap the 84-foot-tall tree took around the county as it made its way from its home in the Six Rivers National Forest to Washington, D.C., where it will serve as the Capitol Christmas tree, won it some fans.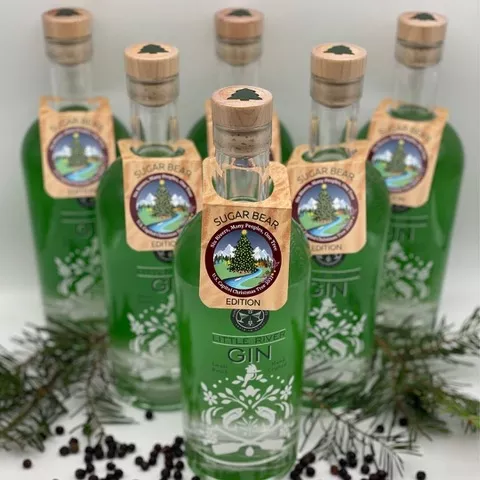 Submitted
The Sugar Bear edition of Little River Gin by Humboldt Craft Spirits.
Thirsty tree huggers can now sip craft gin distilled with actual boughs from the famous fir, while aiding a good cause. Humboldt Craft Spirits is releasing a Sugar Bear edition of its Little River Gin. The bottles, which can be found at local retailers, bear little signs around their necks denoting their lineage from the limbs of our county's evergreen holiday ambassador to the Capitol and the $1 donation each one scores for the Wildland Firefighter Foundation.
According to Fred Moore, who co-owns Humboldt Craft Spirits with his wife, Jackie, a friend at the U.S. Forest Service approached them about joining the companies and individuals sponsoring the tree's transport to D.C. The Moores, who camp in the Six Rivers National Forest each year and saw their usual spot burned in wildfires last year, were happy to contribute. Once on board, they started daydreaming about making a commemorative gin. Then a ranger who was on site for Sugar Bear's harvesting offered to nab them some cast-off boughs, which the Moores jumped at.
The Moores used the two large Ziploc bags of fir tips to flavor a batch of 100-proof distillate. "And my God, it smelled amazing — it smelled like Christmas," says Fred. After a lot of taste testing with friends and colleagues at local wineries, breweries and restaurants, they hit upon a balance of the fir distillate blended with the usual juniper, cardamom, lemon peel and black pepper distillate that goes into Little River Gin.
Submitted
An image of one of the quilt panels on display at Redwood Art Association.
How's it taste? "It's subtle, but you can definitely taste a little bit of Sugar Bear in this batch of Little River Gin," says Jackie Moore in a press release. She'll be sharing samples with folks in D.C. when she and Fred attend the tree lighting ceremony on Dec. 1.
"It's very poignant for us," says Fred. "That tree represents hope and light.
Need another shot of Sugar Bear? Redwood Art Association is showing photos of the
tree skirt
local quilters from Moonstone Quilters, Redwood Empire Quilters Guild and Eel River Valley Quilt Guild made for it and other Capitol conifers. See it now through Dec. 16.